Enzo Biochem (ENZ) "Long-Term Review #12"

Hello Friends! Thanks so much for stopping by and visiting my blog, Stock Picks Bob's Advice! As always please remember that I am an amateur investor so please remember to consult with your professsional investment advisers prior to making any investment decisions based on information on this website.
I was looking at the 'control panel' for this blog. It is hard to believe that I am now up to 1,605 entries (this is #1,606!). My first post was back on May 12, 2003, when I made a short entry on St Jude Medical (STJ). Needless to say, each entry got a little longer, a little more detailed. I added hyperlinks to source material, and learned how to add pictures. I continue to truly be an amateur blogger!
For some time, I have been doing weekend reviews like I did earlier today. A few months ago, I decided it would be a good idea to look deep into the blog and examine the early entries and find out how they turned out. And whether they still deserve a spot on this website!

Two weeks ago reviewed my entry on Dick's Sporting Goods (DKS). The next entry on the blog was Enzo Biochem (ENZ) which was also posted on May 22, 2003. I wrote:
"May 22, 2003

Enzo Biochem (ENZ)

Here is a new one for you. Near the top of the list for the NYSE best advancers is Enzo Biochem (ENZ). They are trading currently (1:42 pm Central time) at
$20.40 up $2.36 on the day or a gain of 13.08%.

News for the day is about a new Phase I Clinical Trial result for Crohn's disease....Phas II study to be initiated (this was on 5/20/03). Crohns is a form of inflammatory bowel disease which is "a highly debilitating widespread ailment for which there is no effective treatment"...quoting Dean L. Engelhardt, Ph.D., the President of Enzo on the NYTimes internet site.

Last quarter, revenues increased 11% and net income was up 76%. In actual amounts, revenue for the 3 months ending 1/31/03 amounted to $13.1 million vs $11.8 million a year ago...and operating income was about $2.0 million vs $1.0 million last year. According to the same news story cash flow, an important criterion to consider, was strongly positive at $9.3 million with cash and cash equivalents at $75.9 million vs $61.9 million a year ago.

Looking at the 5 year growth in revenues on Morningstar, we find 1998 at $40.4 million, 1999 at $44.3 million, 2000 at $42.8 million, a slight drop, 2001 at $52.3 million, 2002 at $54.0 million, and $59.3 million for the trailing twelve months.

Cash flow has indeed improved with a $4 million positive in 2000, $7 million in 2001, $9 million in 2002 and $14 million in the trailing twelve months.

Looking a Yahoo, we find the stock with a market cap of $578.4 million, and a p/e of 58.19. An interesting if not compelling issue to be considered for investment. I do not own any shares of this stock nor plan to be buying any in the immediate future. Good luck! Bob"
First of all, I selected ENZ on May 22, 2003, at a price of $20.40. ENZO had a 5% stock dividend on October 21, 2004, making my effective pick price actually $20.40 x 100/105 = $19.43. ENZ closed at $11.83 on September 14, 2007, for a loss of $(7.60) or (39.4)% since posting.
How about their latest quarterly report?
On June 11, 2007, ENZ reported 3rd quarter 2007 results. Revenues climbed 45% to $14.0 million vs. $9.6 million in the year-earlier same period. The net loss for the period was $(3.8) million or $(.10)/share, improved from a lossof $(3.4) million or $(.11)/share the year-earlier.
What about longer-term results?
Looking at the Morningstar.com "5-Yr Restated" financials page, we can see that revenue actually declined from a peak of $54 million in 2002 to as low as $39.8 million in 2006 and has improved to $44.9 million in the trailing twelve months (TTM). Earnings dipped from $.20/share in 2002 to a loss of $(.20)/share in 2004, profitable at $.10/share in 2005, then a loss of $(.50)/share in 2006, improving slightly (as noted above) to a loss of $(.40)/share in the TTM. Shares have been stable with 31 million in 2002 and 33 million in the TTM.

Free cash flow which was positive at $12 million in 2005, dipped to a negative $(14) million in 2006 and $(13) million in the TTM. The company has a solid balance sheet with $120 million in cash and $18 million in other currnt assets, vs. only $8.9 million in current liabilities and $1.1 million in long-term liabilities. Certainly, they can handle both the losses and the negative cash flow for quite awhile.
What about a chart?
Reviewing the 'point & figure' chart on ENZ from StockCharts.com, we can see a rather dismal price chart with the price basically staying below resistance levels for the past 4 1/2 years and a general drift lower with a recent sharp dip in the stock price. This is a poor chart from my amateur perspective.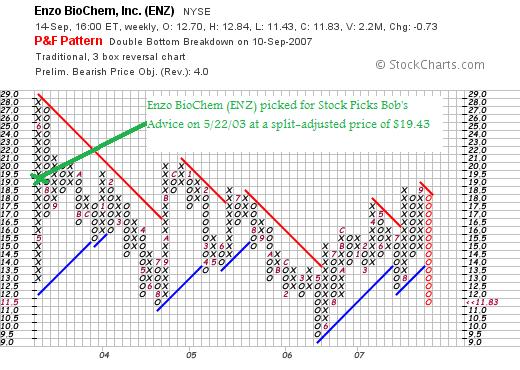 What do I think?
With the poor quarterly report, the unimpressive Morningstar.com report, and the very weak stock chart,
ENZO BIOCHEM (ENZ) IS RATED A SELL
I rate these stocks with a 'rear-view' mirror. I do this based on my own fundamental screens that I have detailed above. I should note that Lazard Capital Markets just initiated coverage of ENZ with a "buy" rating. Clearly, they look at different things than I do. But I am limiting my own "buy" ratings to stocks with steady revenue and earnings growth, profits, and positive charts. This one just doesn't cut it for me.
Thanks again for stopping by and visiting my blog! If you have any comments or questions, be sure and leave them on the blog or email me at bobsadviceforstocks@lycos.com. If you get a chance, be sure and visit my Stock Picks Podcast Page where I discuss a few of the many stocks I write about on the blog. Also, if you want to know how my own Trading Portfolio is performing, visit my Stock Picks Covestor Page where Covestor, a third-party website, evaluates my actual holdings. Also, since January, 2007, or thereabouts, SocialPicks has been reviewing and analyzing all of my stock picks, and you can visit my Stock Picks SocialPicks Page to read about that! Now THAT should keep you busy :).
Stay well and keep on visiting!
Bob