Red Robin Gourmet Burger (RRGB) "Long-Term Review #13"

Hello Friends! Thanks so much for stopping by and visiting my blog, Stock Picks Bob's Advice! As always, please remember that I am an amateur investor, so please remember to consult with your professional investment advisers prior to making any investment decisions based on information on this website.
Sometimes I am absolutely dumbfounded by the mass of entries on this website. It is hard to believe that I have been blogging for almost five years not, since my first entry back in 2003. I encourage all of you to explore through the many entries on the blog as my own thinking has evolved and you may find many interesting ideas within the pages of this website.
Some time back I started doing the 'look back one year' entries on weekends. Now, I am continuing my effort to start going way back to the beginning of the blog with reviews of the early stock picks. Not every one has turned out a winner, but there have been some very interesting stocks discussed here on this blog.

On September 16, 2007, I reviewed Enzo Biochem (ENZ), the 12th entry to be written up on the blog. Let's take a look at the next entry, Red Robin Gourmet Burgers (RRGB) which I wrote up on May 23, 2003.
I wrote at that date:
"May 23, 2003

Red Robin Gourmet Burgers (RRGB)

TGIF. No not the restaurant but the day of the week! Terror alert up, unemployment up, volatility up. Anyhow, found this one this morning. Don't know much about it personally....and do not own any shares of this issue.

According to Morningstar, Red Robing Gourmet Burgers, Inc., "is a chain of 184 casual restaurants, 87 of which are company owned and 97 of which are franchised". Sounds a little like the old Fuddruckers chain (anybody been in one of those lately?).

The stock is grilling up pretty nicely today (sorry).
Currently (10:15 am Central), stock is at $17.00 up $1.17 or 7.39% on the day. Yesterday they reported the first quarter of 2003 (reported 5/22/03), per the New York Times website, "Total Company revenues increased 17.3% to $92.9 million, Company-owned comparable restaurant sales (sort of like retail same store sales figures)...up 2.1%," and reported that per share income unchanged at about $.23.

Annual revenue figures show steady increases from $115.7 million in 1997, 118.2 million in 1998, $130 million in 1999, $189.2 million in 2000 and $224.5 million in 2001, and $249.2 million in trailing twelve months per Morningstar.

Balance sheet wise we find a bit too much debt on this issue to make me very excited and per Morningstar is not yet cash flow positive....so looking closely, a possible purchase....but for my picks....not one of the top choices on this page.

Good luck investing....will see if we can find a better one later today! Bob"
Red Robin was "picked" on Stock Picks when it was trading at $17.00. RRGB closed at $44.33 on October 5, 2007, for a gain of $27.33 or 160.8% since posting. I do not have any shares nor do I have any options on this stock.
How did they do in the latest quarter?
Red Robin reported 2nd quarter 2007 results on August 16, 2007. For the quarter ended July 15, 2007, revenue climbed 31.5% to $178.6 million. GAAP diluted earnings per share dipped to $.29/share from $.43/share last year. Net income was $4.9 milion this year, down from $7.2 million last year. The company recorded multiple one-time expenses bringing down the earnings.

The company missed expectations of analysts who had been expecting earnings of $.43/share on revenue of $175 million which the company was able to beat.
How about longer-term results?
Reviewing the Morningstar.com "5-Yr Restated" financials, we see that sales have continued to grow from 2002 through the TTM. Earnings, however, peaked at $1.80 in 2006 then dipped to $1.60/share in the TTM. Free cash flow has also been negative since 2004 with $(15) million in 2004, $(19) million in 2005, $(17) million in 2006 and $(4) million in the TTM.

The balance sheet leaves a bit to be desired per Morningstar.com, with $17 million in cash and $25 million in other current assets compared to a current liabilities level of $90.1 million. This results in a current ratio of .47. I like to see current ratios of at least 1.25, to be considered 'healthy' from my perspective. In addition, Morningstar shows RRGB with an additional $175.7 million in long-term liabilities.
What about the chart?
Looking at a "point & figure" chart on Red Robin Gourmet Burger (RRGB) from StockCharts.com, we can see the steep rise in price shortly after my stock pick was posted. The stock peaked in June, 2005, and then the stock price appears to have 'rolled over', with the stock breaking through support lines, and being unable to cross 'resistance lines'.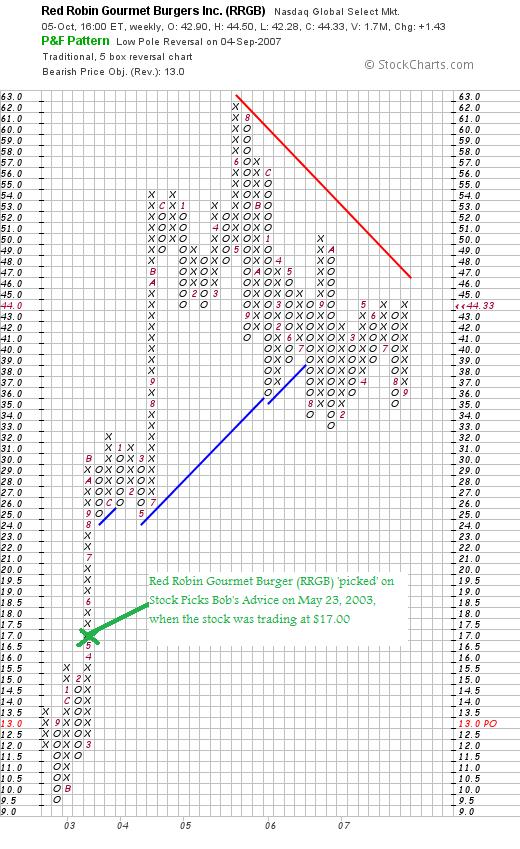 With the mediocre earnings report, the spotty Morningstar.com numbers, and the relatively weak chart, in spite of the fabulous performance of this stock pick,
RED ROBIN GOURMET BURGER (RRGB) IS RATED A SELL
Thanks so much for stopping by and visiting! If you have any comments or questions, please feel free to leave them on the blog. If you get a chance, drop by and visit my Stock Picks Podcast Website, where I have been discussing some of the stocks I have blogged about here on this website. In addition, be sure and visit my Covestor page where my actual trading portfolio is analyzed and ranked by the Covestor people. Also, visit my SocialPicks page where all of my stock picks from this year on have been reviewed and my 'picking performance' is evaluated.
Have a great trading and investing week everyone, and try to stay healthy!
Bob