Affymetrix (AFFX) "Trading Transparency"
Hello Friends! Thanks so much for stopping by and visiting my blog, Stock Picks Bob's Advice! As always, please remember that I am an amateur investor, so please remember to consult with your professional investment advisers prior to making any investment decisions based on information on this website.

Earlier this morning, as I mentioned in the previous post, noting that the market seemed to be gathering steam with the announcement of the Microsoft pursuit of Yahoo, I decided to check the list of top % gainers on the NASDAQ where I found an old favorite of mine moving sharply higher, Affymetrix (AFFX). I say "old favorite" because I first posted Affymetrix (AFFX) on Stock Picks Bob's Advice on January 27, 2005, three years ago (!), when the stock was trading at $40.62/share. The stock is down sharply since that date and NO there haven't been any stock splits that would explain the lower price today.
Being rather stubborn at this trading situation, I thought I would give it another go and purchased 1200 shares of AFFX at $21.82. It was my thought that based on the announcement last night of 4th quarter 2007 results ended December 31, 2007, that the company might have enough price momentum to continue moving higher. As with my other 'larger' trades, I would hopefully be able to shed a considerable number of these shares and leave a smaller position in my Trading Account.
Anyhow, that was my plan. So far it isn't panning out perfectly. AFFX is trading, as I write, at $21.60, up $1.54 or 7.68% on the day--about $.20 below my purchase price.
Let's take a closer look at this company and I will try to explain why I purchased shares and why
AFFYMETRIX (AFFX) IS RATED A HOLD

First of all, according to the Yahoo "Profile" on Affymetrix, the company
"...engages in the development, manufacture, sale, and servicing of consumables and systems for genetic analysis for use in the life sciences and clinical healthcare markets. It offers GeneChip system and related microarray technology platform for acquiring, analyzing, and managing genetic information. The company's GeneChip microarray platform includes disposable DNA probe arrays containing genetic information on a chip; reagents for extracting, amplifying, and labeling target nucleic acids; a fluidics station for introducing the test sample to the probe arrays; a hybridization oven for optimizing the binding of samples to the probe arrays; a scanner to read the fluorescent image from the probe arrays; and software to analyze and manage the resulting genetic information."
Let's take a closer look at that earnings report announced last night after the close of trading:
For the quarter ended December 31, 2007, revenue came in at $107.6 million, up from $104.2 million in the same quarter in 2006. Full year revenue came in at $371.3 million, up from $355.3 million in 2006. Net income worked out to $12.8 million or $.17/diluted share. This is compared to net income of $8.68 million or $.13/diluted share last year.
The company beat expectations on earnings but did miss on revenue. The 'street' had been expecting a profit of $.16/share on revenue of $109.2 million per Reuters estimates. However, the company guided higher for 2008 with revenue expected to be $505 to $525 million (analysts had projected revenue of $403 million).
This relatively optimistic report yesterday was enough to push the stock higher in early trading today.
Checking the Morningstar.com "5-Yr Restated" financials, we can see why this stock is not a perfect fit for my strategy and yet with the latest report appears to be changing the recent pattern of financial performance. Here we can see the nice growth in revenue between 2002 and 2005 from $290 million in 2002 to $368 million in 2005. However, revenue dipped to $355 million in 2006 and has only bounced back to $368 million in the trailing twelve months (TTM).
Earnings have also been erratic. While improving from a loss of $(.10)/share in 2002 to $.96/share in 2005, the stock then dipped to a loss of $(.20)/share in 2006 and improved once again into the black at $.13/share in the TTM.
Free cash flow which was $27 million in 2004 and $24 million in 2005, dipped to a negative $(48) million in 2006 and improved to a $(5) million in the trailing twelve months.
The balance sheet is solid with $124 million in cash and $276 million in other current assets. This total of $400 million when compared to the $79.5 million in current liabilities yields a very strong current ratio of just over 5.0. In addition, there are $135.2 million in long-term liabilities reported by Morningstar.
And what about the chart?
Looking at the StockCharts.com 'point & figure' chart on AFFX, we can see that the stock moved nicely higher from $22 in October, 2003, to a high of $59 in July, 2005. Since then the chart broke down when the price dipped to $43 in Decmber, 2005, and has headed lower since to a low of $17.50 in August, 2006, to a recent high of $31 in April, 2007, and has not convincingly moved in an upward direction.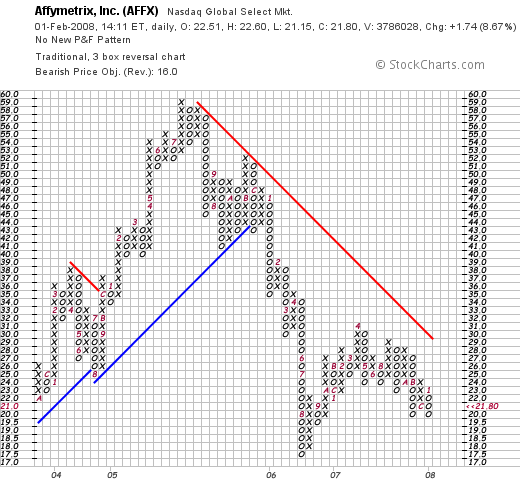 Summary:
I bought shares in AFFX earlier today for a 'trade' and hopefully to end up with a new position in my Trading Account. The stock is slightly under my purchase price yet appears to have good support. The earnings announcement was strong and the guidance was superb. Otherwise, the stock has performed poorly since I posted it back in 2005. The chart looks weak and I believe is related to the inconsistent performance the past few years as documented by the Morningstar report.
The strength of the stock is based on the belief that things are going better in the future. Certainly the concept of gene mapping and the business in that field is likely only to continue to show strong prospects.
Whether I continue to hold these shares is problematic. Wish me luck! Meanwhile, I shall sit back and wait to see how this works out.
Bob