A Reader Writes "I'm writing because I need some advice...."
Hello Friends! Thanks so much for stopping by and visiting my blog, Stock Picks Bob's Advice! As always, please remember that I am an amateur investor, so please remember to consult with your professional investment advisers prior to making any investment decisions based on information on this website.
One of the great pleasures of writing a blog is to receive comments and questions from readers who have perhaps gained something from your efforts. If you have any comments or questions, please feel free to leave them on the blog or email me at bobsadviceforstocks@lycos.com.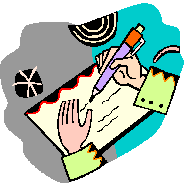 I received one of those letters yesterday from Ivy K. who wrote with some questions of her own:
"Hi Bob! My name is Ivy K., 26 year old nursing student in Las Vegas, NV. I'm a complete newbie in the world of stock market investing. I joined CNBC.com's Portfolio challenge this morning. I'm writing because I need some advice on how to to search / research for good stocks. I read your June 23, 2008 article about FLUOR and why it's a good pick. Where did you get the news about their earnings and etc?

Also, I picked the following stocks for my virtual online portfolio and if you have the time, could you pls give me some advice on them? They are :

1.) VeraSun Energy Corp -- I chose this because alternative energy is always on the news even on CNN.

2.) Estee Lauder -- My sister and mom are loyal to Aveda, which was purchased by Estee Lauder. Plus, it was featured in MSNBC's Business of Innovation because it's a socially responsible company and that's something that I admire. Plus, that show also mentioned that their profits are rising.

3.) Waste Management -- I really believe that this kind of company can help with global warming.

4.) Whole Foods Market -- My teacher and other classmates do their groceries here and in the entertainment news, I see a lot of celebrities doing their groceries here. I figured if the celebrities are doing it, pretty soon other people will be doing it.

Finally, I go to reuters.com's finance section because they have analyst recommendations on whether to sell, hold or buy.

This is a long email and I really appreciate the time you've taken to read and hopefully, respond.

Yours,
Ivy"
Ivy, thank you so much for writing!
I am glad that you enjoyed my write-up on Fluor (FLR), and my explanation of why I believe it is a good "pick". Let me try and answer your questions in order.
You first asked me about "where I got my information on the earnings, etc.?" That's easy. I am a big fan of Yahoo Finance (and no I don't own any shares in Yahoo!). All you need to do is enter the symbol of the company that you wish to investigate into the box next to the "get quotes" button and you will get company-specific information.

For instance, let's use Verasun Energy (which after entering the name in the box I see that the symbol is VSE).
I generally find the logo by first going to the homepage for the company. Virtually every company has a homepage on the internet. To get the location, you can go over to the Yahoo "Profile" for VSE.
HERE is the hompage for VSE if you are interested :).
Also on the "Profile page" from Yahoo is a description of the company:
"VeraSun Energy Corporation engages in the production and sale of ethanol and its co-products in the United States. Ethanol is primarily used as a blend component in the gasoline fuel market. The company's ethanol co-products include wet and dry distiller grains with solubles, which are used as animal feed; and corn oil that is used as an animal feed, as well as to produce biodiesel. It also markets VE85, an ethanol blended fuel through arrangements with gas distributors and retailers."
So now we can see that this particular company, that I have not been previously familiar with, is involved in ethanol production. Certainly this has been a very 'hot' area in the stock market.
There isn't anything wrong with buying a 'trendy' kind of stock. In fact, you could ride the obvious positive sentiment which may work out to price momentum hopefully to the upside. This isn't particularly my approach--but there are many ways to select stock and this might work for you!
But my own next step in looking at a stock is to check out the latest quarterly report. From my perspective, I am looking for companies that are growing their revenue, increasing their earnings, possibly beating guidance, and hopefully raising expectations. O.K. that's a lot to ask from a quarterly report, but remember that we cannot expect to buy every stock.
By the way, I do NOT own any shares of VSE nor do I have any options.
If we look down the left side of that "Profile Page on Yahoo" we can see the "Headlines" link. You might have been expecting something more spectacular than this basic approach :), but I do a lot of 'scrolling' through these headlines (one each stock I review) to find the stories about earnings and significant developments.
I did see a story about delaying the startup of the third ethanol production facility this month because of "market conditions". I don't like the sound of that story...hmmm. By the way, VSE closed today (6/25/08) at $4.11, up $.13 or 3.27% on the day. Generally, I have been avoiding low-priced stocks under $10/share, but that is another story.
But let's keep looking for those earnings.
On May 12, 2008, VeraSun (VSE) reported 1st quarter 2008 results. Revenues literally exploding climbing 257% to $516.5 million. Net income turned positive at $7.6 million or $.08/diluted share vs. a loss of $(.3) million during the same quarter last year.
Well that report looks pretty nice!
However, you probably know that I believe that earnings expectations are often critical in determining whether a financial result is actually good or bad news! In other words, if we look through the news, we can get another report from the A.P. that indicates that the company missed expectations on earnings ("Analysts polled by Thomson Financial expected, on average, earnings per share of 16 cents."). Within the same article, the reporter notes tha the company did beat expectations of $500 million in revenue when they reported the $516 million result.
So the earnings news were at best 'mixed' although on the surface they appear pretty spectacular.
My next step (which you may or may not wish to emulate) is to examine whether the longer-term results are just as positive. For this, I utilize Morningstar.com, another free website--Morningstar also has a subscription-based premium site that does cost money. (In this case, I do own some shares of Morningsar (MORN) in my trading account--full disclosure).
If you enter VSE into the "quotes" box near the upper left, and then click on "Financial Statements" on the left side, and finally click on the "5-Yr Restated" tab you will get here.
Let me give you my take on this company. First revenue growth is beautiful with steady increase from $13 million in 2003 to $848 million in 2007 and $1.2 billion in the trailing twelve months (TTM). Earnings, however, have been at best erratic, jumping from $.02/share in 2003 to $.39/share in 2004, before slipping back to $.01 in 2005. Earnings then climbed to $1.03/share in 2006, and diped back to $.31/share in 2007 and increased to $.39/share in the TTM. Not exactly steady and consistent growth.
Something else, a word about 'free cash flow'. This might or might not be important to you. It means a lot to me. I am looking for companies from a relatively conservative viewpoint. That is, I want to own shares in companies that from my most amateur viewpoint appear to be financially healthy. And that requires them to be producing free cash instead of consuming it.
In VSE's case, the company was negative $(90) million of free cash flow in 2005, improved it to $54 million in 2006, dipped to a low of $(399) million in 2007 and has deteriorated further to a negative $(468) million in free cash flow in the TTM.
Not exactly the numbers I would prefer to see.
That doesn't mean that this might not be a terrific investment. Seriously. A great investment is a stock that when you have gone long, that is purchased shares for possible price appreciation, actually does go up in price. So these financial things are the stuff I look for in a stock. That doesn't mean that you need to...just my thing I guess.
Returning to Morningstar, we can see that the company has $73 million in cash and $323 million in other current assets. Considering the company has $189.3 million in current liabilites, this is a current ratio of over 2:1. Which would appear on first glance to be quite healthy. But when we take into consideration the nearly 500 million in cash flow 'destruction', we can see that the balance sheet could possibly be in the process of deteriorating somewhat. At least that's my take.
I usually go next to Yahoo "Key Statistics" to get some more information on the stock.
And check a chart over at StockCharts.com: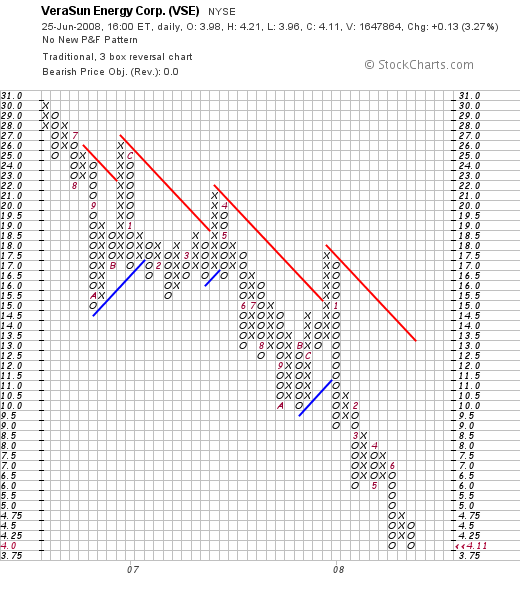 The chart isn't very encouraging to me. This kind of chart is known as a "point & figure" chart with columns of x's to suggest climbing stock prices, and o's to demonstrate declines.
I feel like I am 'late to the party' but I would be reluctant to buy these shares, at best a "hold", more likely
VERASUN (VSE) IS RATED A SELL
O.K. that wasn't what you wanted me to say, but it just doesn't work for my strategy. The last quarter was great but they missed expectations. They are delaying their ethanol plant openings because of "market conditions", they are burning up their available cash, and the chart looks awful to me.
I think you can check out the other stocks you mentioned in the same fashion as I did to reach your own conclusions.
Your list of stocks are basically what I would call 'top down' investing. It isn't a bad technique--many great investors do exactly that. They start with an idea, an observation, a realization, and then pursue the stock that sounds like it might work.
Peter Lynch successfully utilized this approach among other strategies during his stint with Fidelity Magellan fund.
As reported on the Wharton Alumni page:
"Now vice-chairman of Fidelity Investments, Lynch has lived and breathed his strategy, even choosing one company, Hanes, in the 1970s because his wife bought and loved its new L'Eggs pantyhose line — the first department-store-quality pantyhose sold to American women via supermarkets.

"I did a little bit of research," Lynch told PBS's Frontline. "I found out the average woman goes to the supermarket or a drugstore once a week. And they go to a woman's specialty store or department store once every six weeks. And all the good hosiery, all the good pantyhose is being sold in department stores. They were selling junk in the supermarkets. They were selling junk in the drugstores." Lynch knew Hanes had a winner. L'Eggs became a huge success, and Hanes became Magellan's biggest position."
So you are in good company if you subscribe to this approach. And it may work out well for you!
My own approach is more eclectic. I call it a "Zen" approach (of course I know next to nothing about Zen Buddhism). But what I mean is that I want to simply observe the market. Note which stocks are moving higher and examine their underlying fundamentals to see if they might be suitable investment vehicles.
I try to reduce my own calculations and concentrate on observations.
In addition, greatly influenced by Gene Walden who wrote about "100 Best Stocks to Own in America", as well as my own observations about finding the most consistent, steady growers in the market to park my own investment money, I started looking hard at recent quarterly reports (also influenced by William O'Neil and the CANSLIM strategy), I noted that companies like Fastenal (FAST) or Wal-Mart (WMT), had records of steady growth in revenue and earnings and these results were accompanied by steady and spectacular price appreciation.
Reading Robert Lichello and his AIM system from "How to Make $1,000,000 in the Stock Market Automatically" I started thinking about listening to my own portfolio. I limited my losses and started preserving my gains by small sales of appreciation stocks. I used these sales on the upside and the downside to give me 'signals' on when to be buying or selling positions in my portfolio.
I hope all of this works.
I am not sure if I have answered your questions. But I hope that I have encouraged you to seek more information, think about your investment strategy and perhaps to add to your knowledge by looking, observing, and responding to the stock market.
Thanks for visiting and writing!
Yours in investing,
Bob