A Reader Writes "What happened to DHB?"
Hello Friends! Well, we got a little reprieve from the market today. Thanks so much for stopping by! As always, please remember that I am an amateur investor sorting out investments so please consult with your professional investment advisors before making any investment decisions based on information on this website! If you have any questions or comments, please feel free to email me at bobsadviceforstocks@lycos.com and I will try to get back to you as soon as possible.
Speaking of email, I had a note this weekend from one of my readers here, who pointed out that almost as soon as I had posted DHB Industries, the stock was down 18%.
Vishwa wrote:
Hello Bob,

Keep up your good advice!

I have a question on DHB industries. Despite amazing 2nd quarter earnings yesterday (Aug. 5) why did the shares of this company fall 18% today (Aug 6)?

I don;t quite understand what's going on! Could you throw some light on what to expect from this company's shares in the near future and in the next 1 year?

Thanks,
Vish'
On August 2, just 8 days ago, I
posted DHB Industries (DHB)
on Stock Picks at $17.05. The stock was up 12% that day and made the list of top gainers. As Vish points out, DHB dropped 18% on 8/6/04. Today, DHB closed at $14.13, up $.18 or 1.29% on the day. However, it is still trading DOWN $(2.92) or (17.1)% from my post in just a week.
Vish points out that on August 6, DHB
reported earnings
for the 2nd quarter 2004. Earnings came in at $7.7 million or $.17/share vs. $4.1 million or $.09/share the prior year. Sales were up 52% to $86.1 million from $56.5 million. I also don't see any other news to explain the drop in the stock price.
I already dropped Vish a note saying that the market was weak and it was sloppy. What does all of that mean? Well, as William O'Neill, the brilliant stock-picker and founder of Investors Business Daily likes to point out it is the M in CANSLIM that affects so many stocks in so many ways. In other words, the overall bearish tone of the market this past weak has dragged down DHB. I mention "sloppy" in terms of trading action, which in my opinion means that the market is ignoring fundamental factors in its action, that is, punishing the good with the bad! There really WASN'T any good reason that I am aware of to explain the price action on this stock!
So how does an investor AVOID such punishing price moves? First of all, I personally sell stocks that hit an 8% or greater loss as soon as they pass that threshold. I don't care HOW MUCH I like the stock, out it goes. If I had puchased shares in DHB and it dropped the next day, out the shares would go. I would take my loss, "lick my wounds" and not look back.
What else can an investor do? I use internally generated signals from my OWN portfolio to let me know whether I should even be making a purchase! That is, if you have been reading my blog, you will know that my latest trade was a sale of Sanderson Farms on weakness. Thus, I am sitting on my hands waiting for a sale of one of my stocks at a gain to "give me the green light" to add a new position. This avoids me going against the market, which is a foolhardy move...and results in again what I call "sloppy" trading, with lots of traders "throwing out the baby with the bath water!"
If we look at the latest Point and Figure Chart on DHB: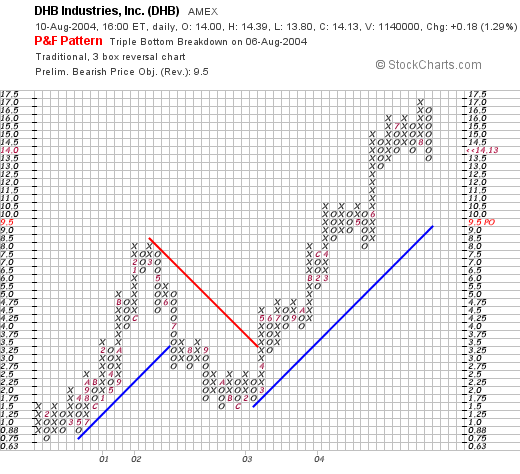 we can see that the stock has NOT actually broken down, in spite of its recent pull-back, the overall trend upwards appears uninterrupted at least at the current levels.

Vish also asked me about what to expect from DHB now and in the future. I am NOT a soothsayer or fortune teller....so your guess is as good as mine! However, I can tell you that the current PEG as reported on "Key Statistics" is only 0.80, suggesting that analysts who may know something about future prospects are predicting results such that the Price/earnings compared to the growth rate is under 1.0 suggesting that the growth rate is anticipated to be growing faster than the current p/e which is at 32. Thus earnings are expected to be greater than 32% over the next five years. As with all of my stock picks, I would hope that this would mean that the price would appreciate, and I am confident that a portfolio of such stocks will perform well, however, any particular stock can be higher or lower than when I "pick" it for my blog.

Thanks so much for stopping by! I hope my thoughts are helpful as you have asked very good questions and raised concerns regarding the whole process! Good luck investing and you are welcome to keep me posted regarding your own experiences in investing!

Bob
Posted by bobsadviceforstocks at 4:08 PM CDT |
Post Comment
|
Permalink
Updated: Tuesday, 10 August 2004 4:15 PM CDT