3M (MMM) "Trading Transparency"
Hello Friends! Thanks so much for stopping by and visiting my blog, Stock Picks Bob's Advice! As always, please remember that I am an amateur investor, so please remember to consult with your professional investment advisers prior to making any investment decisions based on information on this website.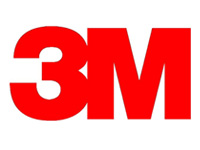 With my sale of my small position in Sysco (SYY) at a loss, I generally would be 'sitting on my hands' with the proceeds as this was a sale on 'bad news'. However, since this sale was one of my five last holdings in my trading account, this dropped my portfolio to four positions, and paradoxically triggered a 'buy signal' however a modified signal at best.
I say 'modified' because when under my five position minimum, even while adding a position to bring it back to five I am cognizant of the signal telling me that the investing environment is awful and have thus set up my portfolio system to replace the holding with a new, albeit smaller position.
When buying a stock on 'bad news' triggered by getting under the minimum position number, my size is set at 50% of the average of the other holdings. On the other hand, when buying a stock with 'good news' triggered by the partial sale of a holding as it appreciates to a sale price level, the size of the new position is instead larger than the other positions---in fact it is set at 125% of the average holding.
Thus, while adding to my equity portion of my holdings in times of 'good news' I continue to shift towards cash even while purching a new stock forced by a market driving me to sell one or more of my minimum of five holdings.
Thus, after my sale of my Sysco (SYY) stock, my average of my four other positions worked out to approximately $2,800. Instead of buying a stock on momentum as I have been in the past doing when the market was quite a bit healthier, I turned to what I would call a 'value' approach and purchased 33 shares of 3M (MMM) at $43.40 today. MMM closed a little lower than that today at $43.12, up $.28 or 0.65% on the day.
Let's take a closer look at 3M and I hope to share with you my own thinking as to why I picked this particular stock today to add to my own portfolio.
First the latest earnings: on January 29, 2008, 3M (MMM) reported 4th quarter 2008 results. Sales for the quarter came in at $5.5 billion, down (11.2)% over the prior year. Adjusted earnings came in at $676 million or $.97/share, down from $863 million or $1.19/share in the prior year. The company in the same announcement cut guidance for 2009 to earnings of $4.30 to $4.70/shae, down from the prior range of $4.50 to $4.95. In addition, revenue was now estimated to decline 5-9% from prior guidance of a 3-7% decline.
Looking at the Morningstar.com "5-Yr Restated" financials, we can see the rise from $20 billion in revenue in 2004 to $25.3 billion in 2008, the increase in earnings from $3.56/share in 2004 to a peak of $5.60/share in 2007 before declining to $4.89 in 2008 (and apparently further down in 2009). The company has been buying back shares with outstanding shares declining steadily from 798 million in 2004 to 707 million in 2008. Free cash flow has been positive and growing from $2.7 billion in 2006 to $3.1 billion in 2008.
The balance sheet appear solid with $1.8 billion in cash and $7.7 billion in other current assets vs. a current liabilities of $5.8 billion and $9.8 billion in long-term liabilities.
Looking at Yahoo "Key Statistics", the company is a large cap stock with a market capitalization of $29.92 billion. The trailing p/e is a modes 8.81, with a forward p/e of 9.58 (fye 31-Dec-10). The PEG ratio is 1.07. Price/Sales is only 1.18. Meanwhile the company pays a foward dividend of $2.04 yielding 4.5%. The company's last stock split was 9/30/03 when the stock split 2:1.
If we look at a 'point & figure' chart on MMM from StockCharts.com, we can see that the stock peaked at $92 in October, 2007, only to decline sharply through support levels to its current level at $43 and change.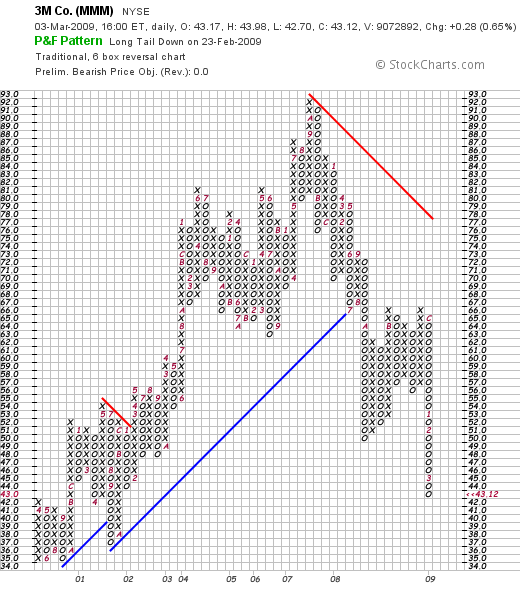 I do not know if 3M can hold this level. I do know that the stock which is profitable is now selling for a p/e under 9 and yields 4.5%. The stock is a fraction of its current peak and is selling at levels last seen back in early 2002.
Anyhow, I am now back to my minimum of 5 holdings. Tomorrow will reveal whether I shall be selling additional positions or whether this stock will also end up being a short-term holding.
Yours in investing,
Bob