"Looking Back One Year" A review of stock picks from the week of February 20, 2006
Hello Friends! Thanks so much for stopping by and visiting my blog, Stock Picks Bob's Advice! As always, please remember that I am an amateur investor, so please remember to consult with your professional investment advisers prior to making any investment decisions based on information on this website.

Sometimes after a difficult week in trading it is easy to lose perspective about the long-term results of investing. Let's take a look back to a year ago at the week of February 20, 2006, and see how those stock picks turned out. Last weekend I reviewed the selections from February 13, 2006, and as I like to do, I try to move ahead one week each weekend and check out the picks from that entire week.
These reviews assume a buy and hold strategy with all of the stocks selected. In practice, I utilize an active portfolio management strategy in which I try to limit my losses by selling my losing stocks quickly and completely and preserve my gains by selling appreciating stocks slowly and partially at targeted appreciation levels. This difference between the review and my actual practice would certainly affect performance measurements and should be taken into consideration.

On February 22, 2006, I posted Metrologic (MTLG) on Stock Picks Bob's Advice when it was trading at $23.57. Metrologic was taken private by Francisco Partners-led private equity firm at $18.50/share as reported on September 12, 2006. This worked out to a decline of $(5.07) or (21.5)% since posting.

On February 23, 2006, I posted C R Bard (BCR) on Stock Picks when it was trading at $66.74/share. BCR closed at $81.23 on August 10, 2007, for a gain of $14.49 or 21.7% since posting.

On July 24, 2007, Bard reported 2nd quarter 2007 results. Revenue climbed 10% to $545.7 million from $496.5 million. Net earnings came in at $97.5 million or $.91/share, up from $81.4 million or $.76/share. These were good results but did come in $.02 shy of estimates of $.93 according to Thomson Financial.
Reviewing the "point & figure" chart on BCR from StockCharts.com, we can see that while the stock has been under some short-term pressure and appears to be consolidating in price, the chart is still well above its support level.
With the solid earnings report and still strong chart,
C R BARD (BCR) IS RATED A BUY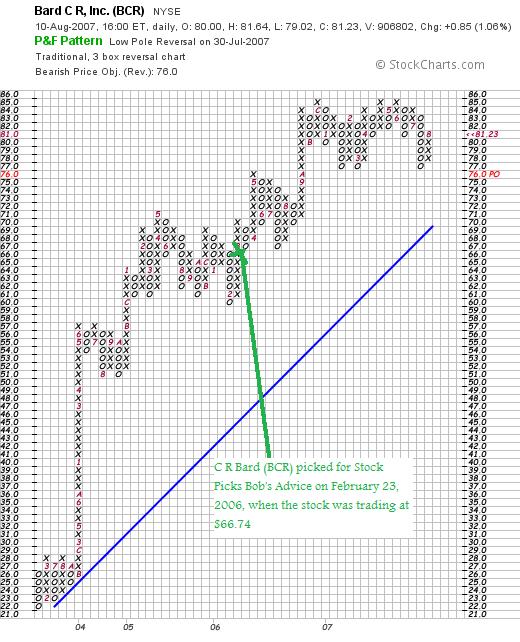 On February 25, 2006, I posted NATCO Group (NTG) on Stock Picks Bob's Advice when the stock was trading at $24.61. NTG closed at $44.21 on August 10, 2007, for a gain of $19.60 or 79.6% since posting.

On August 1, 2007, NTG reported 2nd quarter 2007 results. Revenue came in at $140.7 million, up 9% over prior year revenue of $128.7 million. Net income was $11.8 million or $.62/diluted share up from $9.3 million or $.50/diluted share last year.
Looking at the "point and figure"chart on NTG from StockCharts.com we can see that this is quite a strong chart, and although it has recently experienced some small amount of profit-taking, does not appear to have broken down from its upward movement and appears to be trading well above its support levels.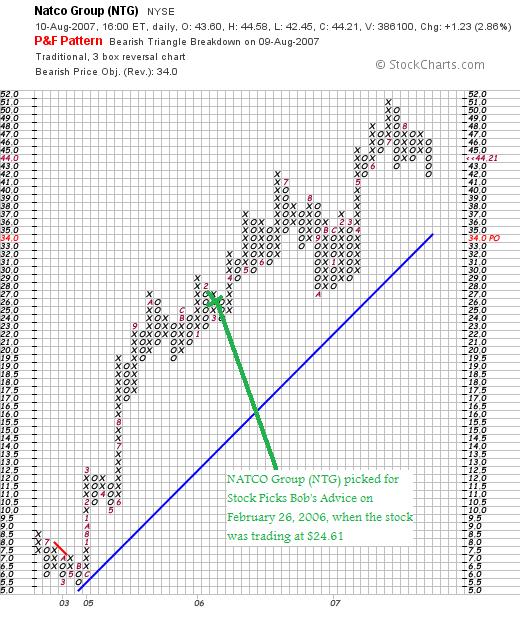 In light of he solid earnings report and intact price chart,
NATCO GROUP (NTG) IS RATED A BUY
So how did I do with these three stock picks from that week back in February, 2006? In a word terrific! One stock was acquired, one showed a solid gain, and the other had a fabulous price appreciatio. The average gain for the three stocks works out to 26.6%.
It is nice sometimes to look back a bit to get perspective! Although it is true that past performance is not a guarantee of future performance and that as always, recall that I am an amateur investor.
Thanks again for visiting! Please feel free to leave your comments or questions right on the blog or email me at bobsadviceforstocks@lycos.com.
Bob