"Looking Back One Year" A review of stock picks from the week of July 31, 2006

Hello Friends! Thanks so much for stopping by and visiting my blog, Stock Picks Bob's Advice! As always, please remember that I am an amateur investor, so please remember to consult with your professional investment advisers prior to making any investment decisions based on information on this website.
I would like to apologize for missing the review last weekend. Family business took me out of town, and a review wasn't in the cards. So we are another week behind on these things. Instead of looking back one year, we shall soon need to talk about looking back two years instead!
Anyhow, these reviews are an important part of my blogging on this website. It really isn't enough just to pick a stock without reviewing what happened at some future date with that stock pick. Some of them do well; others decline in value. It is my goal to continue to refine my 'picking' ability as well as my understanding about investing by examining and re-examining the stock picks and the criteria employed here to select them.
These reviews assume a "buy and hold" approach to investing. I use this assumption for these reviews simply because it is the easiest way to evaluate performance. In reality, I advocate and employ a disciplined investment approach that requires me to sell my losing stocks quickly and completely and sell my gaining stocks slowly and partially.
I found a good comment about Dan Sullivan, the founder of The Chartist, a well-regarded investment letter, who advocates an investment philosophy that isn't far from my own:
"For both his stock market and fund services, Dan is cognizant that the greatest value of his approach is its strict adherence to a time-test and proven discipline. He notes, "We do not make predictions or pretend to have a crystal ball. Instead, we let the market be our guide. When we buy, we rely on the price action of the market to let us know if we are right or wrong. If we are wrong, we simply get out of the market and wait for a more a more opportune time."

Dan continues, "The reason that thousands of intelligent people have had poor results in the market can be directly attributed to their ability to deploy a patient, disciplined strategy in which losses are cut short before they come unmanageable. Conversely, when they have a winning stock they are too quick to sell. We do it just the opposite in that we are quick to sell off our losers and we part with our winners very slowly. It only takes one stock with gains of 300% to more than make up for a host of small losses."
Certainly, this insistence on limiting losses to small levels and taking small gains at appreciation targets affects the overall performance of any investment and would of course affect even the results of this review.
In any case, let's take a look at the stocks 'picked' on this blog a year or so ago. Two weeks ago I reviewed the stock picks from the week of July 24, 2006. Let's go ahead a week and look at the week of July 31, 2006.

On August 3, 2006, I picked Christopher & Banks (CBK) for Stock Picks Bob's Advice when the stock was trading at $29.44. CBK closed at $10.90 on February 8, 2008, for a loss of $(18.54) or (62.9)% since posting.
On December 27, 2007, CBK reported 3rd quarter 2008 results. Sales for the quarter increased to $160.0 million from $139.3 million the prior year. Same stores for the quarter increased 9% over the same quarter in the prior year. Net income for the quarter increased to $10.2 million or $.29/diluted share from $9.2 million or $.24/share the prior year.
As good as this earnings report was, the company lowered guidance for the upcoming quarter and year in the same report:
"The Company currently anticipates fourth quarter earnings per diluted share to be in the range of $0.02 to $0.05. The Company's updated guidance reflects the expectation for flat to a low single digit decline in same-store sales in the fourth quarter. This compares to fourth quarter of fiscal 2007 earnings per diluted share of $0.05. For the year, the Company estimates earnings per diluted share to be in the range of $0.72 to $0.75, compared to $0.89 per share last year.

In addition, the Company announced that, based on sales to date and its projections for the balance of the month, fiscal December same-store sales are anticipated to decline 1 to 2%."
More recently, the company cut guidance further to suggest an upcoming loss in the 4th quarter:
"Christopher & Banks said it expects to post a loss of 5 cents to 7 cents per share, compared with its previous prediction of a profit of 2 cents to 5 cents per share.

Analysts polled by Thomson Financial expected a profit of 3 cents per share for the quarter ending in February.

The retailer also said it posted a greater January same-store sales decrease than Wall Street expected."
These lowered guidance announcements, poor same-store-sales results, and continued guidance reduction has resulted in a very weak stock price performance. As seen by this 'point & figure' chart from StockCharts.com:
Reviewing the Morningstar.com "5-Yr Restated" financials, we can see that most everything is intact, except for the dip in earnings.
However, with the week earnings guidance, the declining same-store sales, and the anticipated quarterly loss,
CHRISTOPHER & BANKS (CBK) IS RATED A SELL

On August 4, 2006, I posted Anaren (ANEN) on Stock Picks Bob's Advice when the stock was trading at $19.22.
ANEN closed at $13.73 on February 8, 2008, for a loss of $(5.49) or (28.6)% since posting.
On January 29, 2008, Anaren reported 2nd quarter 2008 results. Revenue came in at $32.4 million, up 6.7% from last year's results. Net income, however, came in at $2.6 million or $.17/diluted share, down from $3.8 million or $.21/diluted share reported last year.
Except for the dip in earnings the latest twelve months, the Morningstar.com "5-Yr Restated" financials page is intact.
Taking a look at the 'point & figure' chart from StockCharts.com, we can see that the stock 'rolled over' way back in December, 2006, when the stock dipped below $19.00. Since that time, the stock has been fighting against resistance and has traded steadily lower.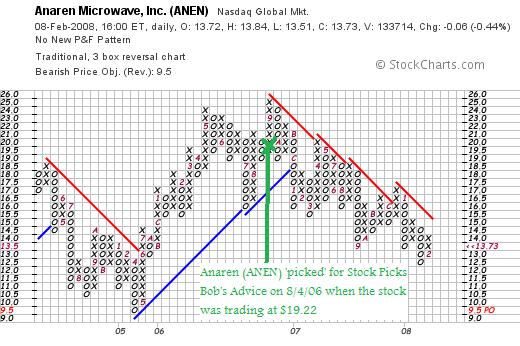 With the relatively weak quarterly report, the very weak-appearing stock chart, even with the relatively strong Morningstar report,
ANAREN (ANEN) IS RATED A SELL
So how did I do with these two picks from 2006? In a word, lousy. Christopher & Banks (CBK) dropped (62.9)% since posting and Anaren (ANEN) declined (28.6)% since being listed here. (You can clearly see the utility of employing stop losses to avoid large losses like this if these two stocks were actuallly purchased and just blindly held! The average loss for these two was a loss of (45.75)%.
Thanks again for visiting! These results once again show that there is nothing 'magical' about what I write and that you all need to exercise tremendous discipline in limiting losses and preserving gains.
If you have any comments or questions, please feel free to leave them on the blog or email me at bobsadviceforstocks@lycos.com.
If you get a chance, be sure and drop by my Covestor Site where my Trading Portfolio is monitored and reviewed, my SocialPicks page where many of my recent stock picks are evaluated, and my Podcast Page where you can listen to me discuss some of the many stocks I write about on the blog.
Consider participating on Prosper.com where I have been exploring the possibility of person-to-person online lending! Be sure and read all of the fine print and understand the risks of loss associated with this type of lending.
Wishing all of you a happy and healthy and financially successful week!
Bob