Buckle (BKE) "Trading Transparency"
Hello Friends! Thanks so much for stopping by and visiting my blog, Stock Picks Bob's Advice! As always, please remember that I am an amateur investor, so please remember to consult with your professional investment advisers prior to making any investment decisions based on information on this website.

I needn't tell you that the 'nickel in my pocket' from my partial sale of WMS (WMS) yesterday was burning a big hole and waiting to be spent!
If you didn't catch the story about Ford (F) yesterday, I would encourage you to take note of anything that sounds optimistic about the economy. Yesterday Ford (F) related that it was increasing production of the F-150 pickup.
As reported:
"Analysts said a sharp drop in gas prices curbed the decline in truck sales.

Ford already announced in October that it planned to restore in January a third shift at its other F-150 plant in Dearborn, Mich. Those roughly 1,000 workers had been laid off earlier this year as the automaker cut production.

The decision to shift workers at the plant in Claycomo near Kansas City to F-150s is continuing that strategy, Kozleski said.

"Despite the challenges in the market, the fullsize pickup remains one of the big sellers in the industry and we are ensuring we have capacity to meet market demand," she said."
Now this particular entry in my blog isn't about Ford (F) at all. We all know the CEO's of the 'big 3' automakers are back testifying to Congress over their need for federal subsidies to keep them in business. But isn't it somehow reassuring that some part of the auto business, even if it is the F-150 pickup line, is showing some life and growth in the midst of what sounds to be universal despair?
Anyhow, I had that nickel in my pocket this morning. If you aren't a regular reader of my blog, I should explain that my stock portfolio shifts between 5 and 20 positions. I use the performance of my own stocks to determine whether I should be adding a new position or shifting more funds into cash. With a sale of 1/7th of my WMS position at a 30% gain (my first targeted appreciation level), that action generated a 'buy signal' for me and I was on the 'lookout' this morning for a good prospect to add to my portfolio.
Checking first with my favorite starting point, the list of top % gainers, I found that an old favorite of mine, Buckle (BKE) had made the list and currently as I write is trading at $23.85, up $4.29 or 21.93% on the day. I went ahead an purchased 143 shares of Buckle (BKE) at $24.3968. I calculated this number of shares by purchasing 125% of the average of my other 5 holdings---as I have written about as my plan for the positions 6-20 in my portfolio---positions that are purchased on 'good news' events.
I say 'old favorite' of mine, because I first wrote up Buckle (BKE) on this blog on April 8, 2005, and then 'revisited' the stock again on December 23, 2006.
What drove the stock higher today was the announcement before the open of November sales for the four-week period ended November 29, 2008. Unless you are living in a cave, you probably are quite aware of the retail sales slump that we are experiencing in the United States, and the global economic slump the world is working through.
Anyhow, the Buckle reported that November sales overall increased 21.6% to $72.2 million from $59.4 million last year. Pretty solid! But even better was the same-store numbers which Buckle reported that for stores open at least one year, same-store sales during the period climbed 15.0%. Year-to-date, comparable store sales for the 43-week period ended November 29, 2008, increased 22.6% over the same period the prior year. So while the growth wasn't quite at the pace of the prior 6 months, it is still pretty amazing! In addition, the company in the same announcement reported that it was busy rebuying its own shares, acquiring 391,400 shares of stock at an average price of $16.23/share.
If we look at the StockChart 'point & figure' chart on Buckle (BKE), we can see that the stock peaked at $42/share back in September, 2008, and dipped to as low as $14 this past November, 2008. The stock is moving higher from that intermediate low point, breaking above prior 'support lines' (the blue line on the graph) at $18.50, and pushing towards resistance at $29.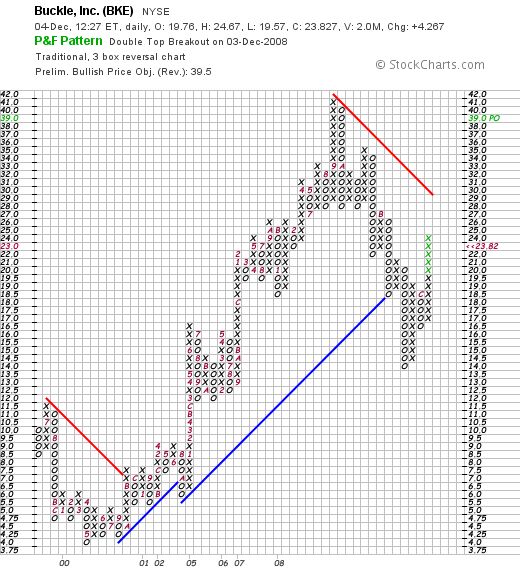 Reviewing the Morningstar.com "5-Yr Restated" financials on Buckle (BKE), the growth in revenue, earnings, and free cash flow is unabated. The company is paying an increasing dividend and at the same time reducing its outstanding shares. The balance sheet is solid with a current ratio of almost 4. There is nothing not to like on this page.
In fact, if we check the latest quarterly report, the 3rd quarter results were reported just two weeks ago: earnings came in at $.62/share or $.64/share removing a one-time charge. This was $.01 ahead of estimates! Net sales came in at $210.6 million, up from $167.6 million last year. And same-store sales for the quarter came in up 19.1% (!) from last year. Nothing shabby there. In fact, I am a bit perplexed how this company has managed to escape the retail struggles of the other stores at the mall!
Looking at Yahoo "Key Statistics" for a brief update on some valuation numbers, the company has a market cap of $1.1 billion, making it a mid cap stock with a trailing p/e of 11.19. With a forward p/e of only 10.75, the company has a PEG ratio of 0.60 practically screaming to me of great value!
There are 46.46 million shares outstanding but only 24.16 million of them that float. As of 11/11/08, there were 8.74 million shares out short for a short ratio of 7.6 trading days (above my 3 days for significance.)
As I noted earlier, the company pays a great dividend of $.80/share yielding 4.60%. The payout ratio is only 33% giving it ample room to increase it in the future depending of course on future earnings and prospects. In fact, the company just completed a 3:2 stock split on October 31, 2008.
Anyhow, that's the news on my trading portfolio. I do not know if I am seeing the light at the end of the tunnel, but somehow that F-150 report yesterday got me a bit encouraged. And it is nice to see an 'old name' of mine moving higher on good earnings and sales news. Sort of like old times.
Thanks again for stopping by and visiting. If you have any comments or questions, please feel free to leave them on the blog or email me at bobsadviceforstocks@lycos.com.
Yours in investing,
Bob
Posted by bobsadviceforstocks at 12:27 PM CST |
Post Comment
|
Permalink
Updated: Thursday, 4 December 2008 12:28 PM CST