"Weekend Trading Portfolio Analysis" SRA International (SRX)
Hello Friends! Thanks so much for stopping by and visiting my blog,
Stock Picks Bob's Advice
. As always, please remember that I am an amateur investor so please remember to consult with your professional investment advisors prior to making any investment decisions based on information on this website.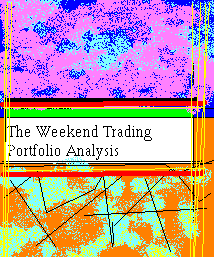 As I like to point out to readers of this weblog, I am trying to do several things on this website. First of all, I like to discuss stocks that look interesting to me as I try to find suitable candidates for investment. Second, I am sharing with you my actual trading portfolio that I have set up to examine the merit of my strategy, and third, I like to review past stock selections to see how they worked out a year later.
In order to share my own trading activity with you I try to post my trades as soon as possible under the entry "Trading Transparency". In addition, a few months ago, I started discussing my holdings and my trade history with each holding. Going alphabetically, reviewing one holding per week, I am currently up to SRA International (SRX). Last week I
reviewed ResMed (RMD) on Stock Picks Bob's Advice
so let's take a closer look at my SRX holding!

I purchased 320 shares of SRA International (SRX) on 2/1/05 with a cost basis of $29.82/share. SRX closed on 12/16/05 at $29.37, up $.21 or .72% on the day, giving me a loss of $(.45) or (1.5)%. If the stock declines further I will sell at an 8% loss or .92 x 29.82= $27.43. On the other hand, if the stock appreciates 30%, I shall sell approximately 1/6 of my holdings at 1.3 x $29.82 = $38.76.
I first
discussed SRX on Stock Picks Bob's Advice
on June 1, 2004, when the stock was trading at $41.80. SRX had a 2:1 stock split on May 31, 2005, giving that pick a price of $20.90. I
"Revisited" SRX on Stock Picks Bob's Advice
on June 13, 2005, when it was trading at $34.74. Thus, the stock is above the first pick price, about the same as my purchase price, and
below
my second "Revisit".
Let's take a closer look at SRA International (SRX):
According to the
Yahoo "Profile" on SRX
, the company:
"...provides information technology services and solutions in the United States. The company offers strategic consulting; systems design, development, and integration; and outsourcing and operations management. Its strategic consulting services include assessment of current operations, development of strategies and plans for improvement, define key priorities and accountabilities, and design enterprise architectures that capitalize on client investments in legacy systems."
SRX does a lot of contracting, including defense contracting, with the Federal Government.
And the latest quarter? On November 2, 2005,
SRA International announced 1st quarter 2006 results
. Revenue for the quarter ended September 30, 2005, climbed 38% from $203.5 million to $280.7illion. Net income climbed from $12.4 million to $14.4 million. Diluted earnings per share jumped from $.22/share to $.25/share this year.
How about Morningstar? Reviewing the
"5-Yr Restated" financials on Morningstar.com for SRX
, we can see the steady revenue growth from $312.5 million in 2001 to $959.0 million in the trailing twelve months (TTM).
Earnings have increased from $.63/share in 2003 to $1.03/share in the TTM. Free cash flow has stayed positive with $34 million reported in 2003, and $28 million reported in the TTM.
And the balance sheet on Morningstar? Looks fine with $111.6 million in cash and $285.6 million in other current assets, with $165.2 million in current liabilities and the smallish $10 million in long-term liabilities reported.
And the chart? Taking a look at a
"Point & Figure" Chart on SRX from Stockcharts.com
: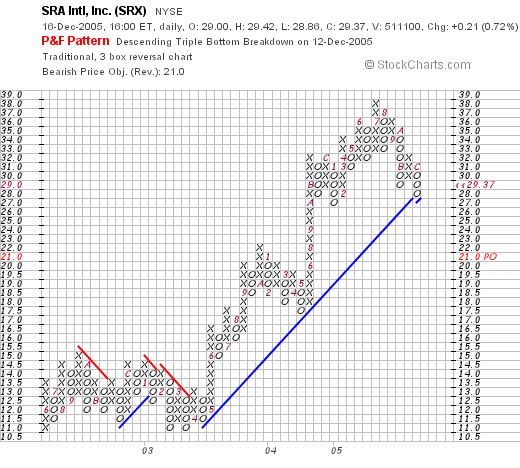 We can see that the stock was moving sideways from June, 2002, until April, 2003, when it broke out higher from the $12 level to a peak of $28. The stock has since sold off and is now challenging the support level of $27. The stock looks o.k., but I would rather see it start trading higher from here!

Anyhow, that's another position of mine! A defense contractor that had a great latest quarter, a nice Morningstar.com report, and a reasonable chart.

Thanks again for visiting. If you have any questions or comments, please feel free to email me at bobsadviceforstocks@lycos.com or just leave your comments on the blog.

Bob