"Looking Back One Year" A review of stock picks from the week of August 15, 2005

Hello Friends! Thanks so much for stopping by and visiting my blog, Stock Picks Bob's Advice! As always, please remember that I am an amateur investor, so please remember to consult with your professional investment advisors prior to making any investment decisions based on information on this website.
The weekend is almost over and I really need to get to the 'review'! I like to examine past stock picks and find out how they would have turned out if I had indeed purchased them. I occasionally do buy stocks for my trading portfolio, but when I do, I post a "trading transparency" entry! The overall performance is the average of each of the performances from the week selected. This assumes a 'buy and hold' strategy.
In practice, I advocate and utilize a disciplined portfolio management system that requires me to sell any stock which incurs a small (8%) trading loss. It also requires me to sell portions (1/6th of remaining shares) at targeted apprreciation points. Thus, this difference in portfolio management would certainly affect portfolio performance. However, for the ease of review, I have chosen to consider that I am employing a buy and hold strategy and have purchased equal-$ amounts of each stock discussed.

On August 16, 2005, I "revisited" Fargo Electronics (FRGO) when it was trading at $17.76. This was the second time I had written up this stock, first writing up Fargo on October 6, 2003, when it was trading at $14.82/share. On May 24, 2006, Assa Abloy's HID Global Corporation was reported to have completed plans for the acquisition of Fargo (FRGO) at a price of $25.50/share. Based on the latest pick price of $17.76, this represents a gain of $7.74 or 43.6% since posting.

On August 17, 2005, I posted Raven Industries (RAVN) on Stock Picks at a price of $24.12. RAVN closed on December 15, 2006, at a price of $27.25, for a gain of $3.13 or 13.0%.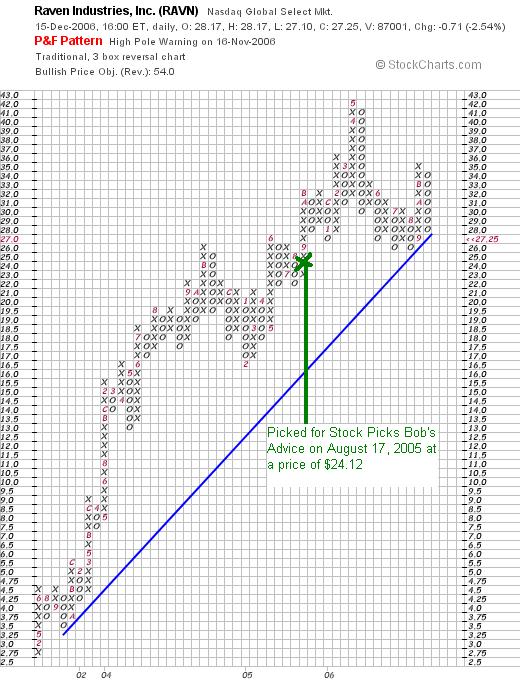 On November 16, 2006, Raven Industries (RAVN) announced 3rd quarter 2006 results. For the quarter ended October 31, 2006, net sales rose 6% to $57.4 million from $54.1 million in the same quarter in 2005. Net income came in at $7.0 million, up slightly from $6.9 million or $.38/share, up from $.37/share last year.
As noted, the company also issued guidance for relatively 'flat' fourth quarter earnings compared to the prior year. So even though I give them a "thumbs-up" it isn't a very enthusiastic one at that!

On August 19, 2005, I picked LaBarge (LB) for Stock Picks when it was trading at $15.91. LaBarge closed at $13.30 on December 15, 2006, for a loss of $(2.61) or (16.4)% since being posted.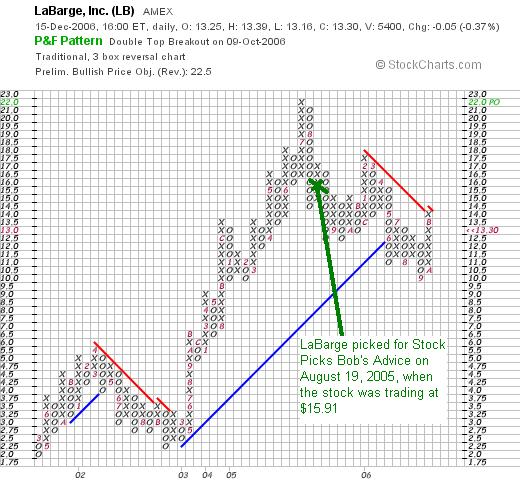 On November 2, 2006, LaBarge (LB) reported 1st quarter 2007 results. For the quarter ended October 1, 2006, net sales came in at $49.9 million, up 26% from the $39.6 million in the first quarter of 2006. Net earnings for the quarter increased 19% to $2.4 million or $.15/diluted share from $2.03 million or $.13/diluted share in the 2006 first fiscal quarter.
So how did I do picking stocks back in 2005 for the week of August 15th? I picked one stock (Fargo) that was acquired on a significant gain, one stock had a small gain another had a small loss for an average gain of 13.4%.
Thanks so much for stopping by and visiting! If you have any comments or questions, please feel free to drop me a line at bobsadviceforstocks@lycos.com or leave your comments right on the blog. If you get a chance, please visit my Stock Picks Podcast Website, where you can download sound files of me discussing many of the same stocks I write about herre on the blog!
Have a great week investing everyone!
Bob