"Looking Back One Year" A review of stock picks from the week of April 24, 2006

Hello Friends! Thanks so much for stopping by and visiting my blog, Stock Picks Bob's Advice! As always, please remember that I am an amateur investor, so please remember to consult with your professional investment advisers prior to making any investment decisions based on information on this website.
As one of my weekend 'tasks' I like to go back into the archives of this blog and look at past stock picks. For the ease of analysis, this review assumes an equal $ purchase of these stocks and a 'buy and hold' strategy after their purchase. In fact, I advocate and practice a very disciplined investment strategy that requires me to sell stocks quickly and completely on losses, and slowly and partially on targeted appreciation levels. This difference in strategy would certainly affect any actual performance and this should be taken into consideration when considering this review.
My last 'review' was last weekend when I reviewed the picks from the week of April 17, 2006. Let's go ahead a week and take a look at stocks picked during the week of April 24, 2006.

On April 26, 2006, I posted Lamson & Sessions (LMS) on Stock Picks Bob's Advice when the stock was trading at $25.90. LMS closed at $27.20 on October 19, 2007, for a gain of $1.30 or 5.0% since the 'pick'.
On August 12, 2007, it was announced that Lamson & Sessions would be acquired by Thomas & Betts (TNB) for $27/share.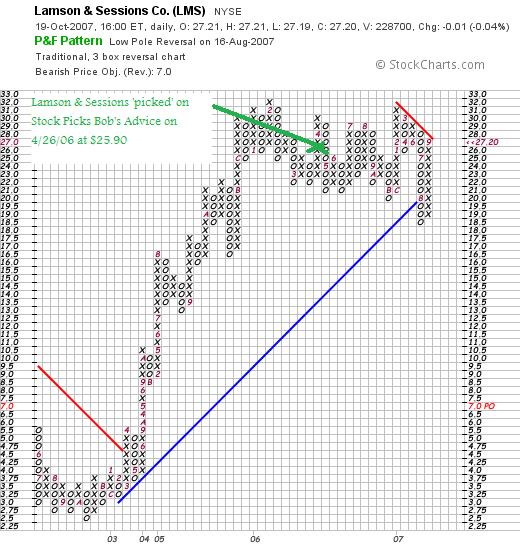 In light of the upcoming acquisiton of this stock, and with the stock trading essentially at the acquisition price,
LAMSON & SESSIONS (LMS) IS RATED A HOLD

On April 26, 2006, I 'picked' J2 Global Communications (JCOM) for Stock Picks Bob's Advice when the stock was trading at $49.40. JCOM had a 2:1 stock split on May 25, 2006, making my effective stock pick price actually $24.70. JCOM closed at $31.18 on October 19, 2007, for a gain of $6.48 or 26.2% since posting.
Looking at a 'point & figure' chart on JCOM from StockCharts.com, we can appreciate the strong technical strength of this stock: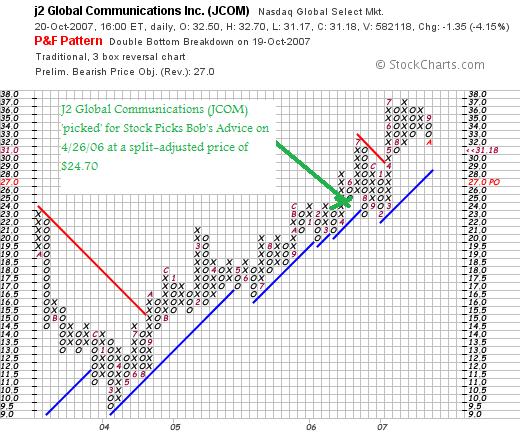 On August 6, 2007, JCOM reported 2nd quarter 2007 results. Revenue for the quarter ended June 30, 2007, increased 22% to $54.0 million from $44.3 million last year. Net earnings increased 29% to $17.1 million from $13.2 million or up 27% to $.33/diluted share from $.26/diluted share last year. The company beat expectations on earnings at $.36/share, when analysts were expecting $.35/share. Revenue at $54.0 million was a little light of the revenue of $54.3 million expected.
The Morningstar.com "5-Yr Restated" financials are intact.
With the strong earnings report, the intact chart, solid Morningstar.com analysis,
J2 GLOBAL COMMUNICATIONS (JCOM) IS RATED A BUY

Finally, on April 28, 2006, I posted AngioDynamics (ANGO) on Stock Picks Bob's Advice when the stock was trading at $30.24. ANGO closed at $20.76 on October 19, 2007, for a loss of $(9.48) or (31.3)% since posting.
Looking at the 'point & figure' chart on AngioDynamics from StockCharts.com, we can see the sideways move of this stock which has recently shown some strength breaking through resistance lines.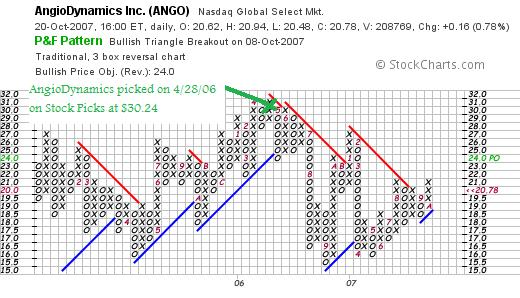 On October 1, 2007, AngioDynamics (ANGO) reported 1st quarter 2008 results. For the quarter ended August 31, 2007, sales came in at $37.5 million an 85% increase over the $20.3 million reported in the prior year. Net income grew 25% to $2.4 million from $1.9 million. However, GAAP earnings per share actually decreased 17% to $.10/share from $.12/share attributed to the dilution of earnings related to the January, 2007 acquision of RITA Medical Systems.
The Morningstar.com "5-Yr Restated" is fair with strong revenue growth but earnings turning negative and free cash flow dropping to $-0- in the TTM. The balance sheet is solid.
In light of the marginally positive price chart, the solid revenue growth but decrease in earnings, and the marginal Morningstar.com report, the best I can come up with is
ANGIODYNAMICS (ANGO) IS RATED A HOLD
So how did I do with these three stocks from last year? With one stock with a small gain and the two others cancelling each other out with a moderate gain and a moderate loss, the overall average was a little bit negative at (.03)% since purchase. Essentially it was a wash!
Anyhow, thanks for visiting! I hope you find my continued reviews helpful. I am concerned about the health of the market but shall continue to implement my trading and portfolio management and let my own stocks talk to me and tell me what I need to do!
If you have any comments or questions, please feel free to leave them on the blog or email me at bobsadviceforstocks@lycos.com. If you get a chance, drop by and visit my Stock Picks Podcast website, my Covestor Page which reviews my actual trading portfolio, and my SocialPicks page which has begun summarizing all of my picks since January, 2007.
Have a wonderful Saturday evening and a good Sunday!
Bob