"Revisiting a Stock Pick" Meridian Bioscience (VIVO)
Hello Friends! Thanks so much for stopping by and visiting my blog,
Stock Picks Bob's Advice
. As always, please remember that I am an amateur investor so please consult with your professional investment advisors prior to making any investment decisions based on information on this website.

Yesterday, after selling some shares of QSII, my "portfolio management strategy" entitled me to purchase some shares in a new position. Meridian (VIVO) was moving up nicely on an earnings report and I purchased some shares. I promised that I would take another look at this company (I
first posted VIVO on Stock Picks on 4/22/04)
.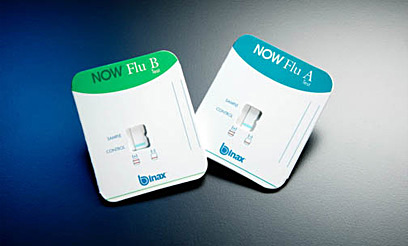 With the market again selling off today, and the Dow closing at 10157.71, down 60.89, and the NASDAQ closing at 1932.19, down 30.22, VIVO didn't follow through with yesterday's price move, but actually held up well, closing at $16.265 today, down $.245 (1.48%) on the day. As I have noted several times, I do have shares of VIVO that I purchased yesterday.
According to the
Yahoo "Profile" on VIVO
, Meridian "...is a fully integrated life science company engaged in the development, manufacture, sale and distribution of diagnostic test kits, primarily for certain respiratory, gastrointestinal, viral and parasitic infectious diseases."
What drove the stock higher, and what I use as a key screening factor, is the latest quarterly report. Yesterday, prior to the open of trading, VIVO
reported 2nd quarter 2005 results
. For the quarter ended March 31, 2005, net sales increased 13% to $23.7 million, compared with sales of $20.9 million the prior year. Net earnings in the quarter were $3.2 million or $.20/diluted share up 40% from the $2.3 million overall, and up 33% over the $.15/diluted share the prior year. In addition, the company reaffirmed optimistic 2005 results. The stock price responded with the nice price move yesterday, and I bought some shares.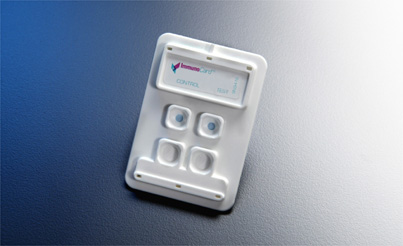 How about "longer-term"? Taking a look at the
"5-Yr Restated" financials on Morningstar.com
, we can see that revenue, except for a small dip in 2001, has steadily increased from $57.1 million in 2000 to $80.3 million in the trailing twelve months (TTM).
Earnings have been a bit more erratic, dropping from $.49/share in 2000 to a loss of $(.70) in 2001, but then steadily increasing since to $.62/share in the TTM.
Free cash flow has also improved somewhat and has been consistently positive, growing from $8 million in 2002 to $10 million in the TTM.
The balance sheet looks fine, with $5 million in cash and $33.9 million in other current assets, which is more than enough to cover both the current liabilities of $17.4 million, and the long-term liabilities of $17.4 million combined.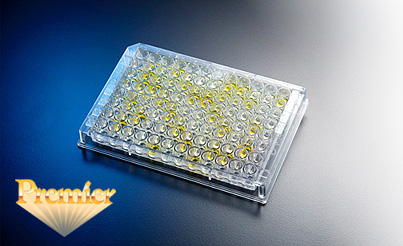 What about "valuation" questions? Taking a look at the
"Key Statistics" on Yahoo for VIVO
, first we can see that this is a very small company, a small cap stock, with a market capitalization of only $254.56 million. The trailing p/e isn't bad at 24.31, and the forward p/e (fye 30-Sep-06) is better at 17.87. The PEG (5-Yr estimated) is 1.55, but then again, the latest quarter had a 40% earnings growth, so this would put the PEG well under 1.0 currently.
The Price/Sales ratio is 3.11 on Yahoo. As I have pointed out elsewhere, and as Paul Sturm nicely wrote, the Price/Sales is very industry-specific. That is, value is a function of an industry, and relative value must be determined by comparing a company to its peers. In this particular ratio, VIVO does well, with Price/Sales ratios in the "Diagnostic Substances" ranging from 1.7 for Dade Behring (DADE), to 367.8 for Human Genome Sciences (367.8). Thus VIVO has reasonable relative valuation within its "industry".
Other facts from Yahoo reveal that there are 15.65 million shares outstanding with 11.50 million of them that float. As of 3/8/05, there were 118,000 shares out short representing 2.07 trading days of volume or only 1.03% of the float. This does not look like an issue to me!
Interestingly, VIVO does (!) pay a dividend of $.48/share yielding 2.91% which is really significant in this low interest rate environment. While a dividend is not critical for me, it is just one more perk to consider owning the stock.
Yahoo reports the last stock dividend was declared on 10/3/95, when a 3:2 stock split was paid out.
How about "technicals"? How does the chart look? I very much like the
"Point & Figure" chart for VIVO from Stockcharts.com
. Here we can see the sell-off in the stock price from $10/share in March, 2000, to a low of $2.25/share (double-bottom) in February-March, 2001. Perhaps pertinently, this coincided with the year that VIVO reported a loss, and the revenue also had a dip!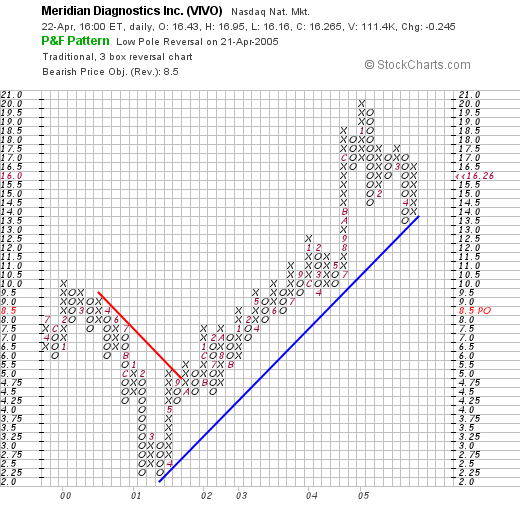 Since that time, the stock has moved strongly higher, actually for the past four years, selling off a bit from $21, in January of this year, to the $14 level. The stock is now holding the support line and seems positioned well for additional advances. (or am I just expressing wishful thinking?)

Well, what do I think? Well, I like this stock enough to purchase some shares. I actually owned VIVO for a short time last year...but I believe I hit an 8% stop and out I went. The latest quarterly report is great, the revenue growth, except for 2001, is terrific. Earnings likewise. The free cash flow is solid. The balance sheet is nice. Valuation is reasonable within its industry. And the graph looks promising. I guess THAT is why I bought some shares. I mean, the stock even pays a significant dividend!

Thanks again for stopping by! I sure hope my discussion is helpful to you and look forward to your comments and questions! You can reach me by either leaving a comment right here on the blog, or email me at bobsadviceforstocks@lycos.com. Have a great weekend everyone.

And by the way, Happy Earth Day!

Bob








Posted by bobsadviceforstocks at 10:08 PM CDT |
Post Comment
|
Permalink
Updated: Friday, 22 April 2005 6:45 PM CDT