Costco (COST)
Hello Friends! Thanks so much for stopping by and visiting my blog, Stock Picks Bob's Advice! As always, please remember that I am an amateur investor, so please remember to consult with your professional investment advisors prior to making any investment decisions based on information on this website.

On September 1, 2011, I purchased shares in Costco (COST) for my "Buy and Hold Value" model in my Covestor account. The shares were purchased with a cost basis of $80.14. Costco (COST) closed today (10/4/11) at a price of $81.65, up $.02 or .02% on the day.
With the economy continuing to teeter on the edge of a 'double-dip' recession, I have along with other investors found a small amount of hoped-for safety in the companies that can do well when times are rough for many Americans. Some of the stocks I hold include Costco (COST) that is a leading warehouse store providing discounted goods to members when bought in bulk, McDonald's (MCD) which remains a staple value fast-food outfit that seems to be recession-resistant, TJMaxx (TJX) which with its occasional high-end brands that it stocks at close-out prices may be competing with Target (TGT) for the distinction of "cheap chic", and Perrigo (PRGO) which provides the cash-strapped consumer an opportunity to buy knock-off products in the form of house brands at cheaper prices at stores like Walgreen (WAG).
September 'same-store sales' results should be released shortly, but the latest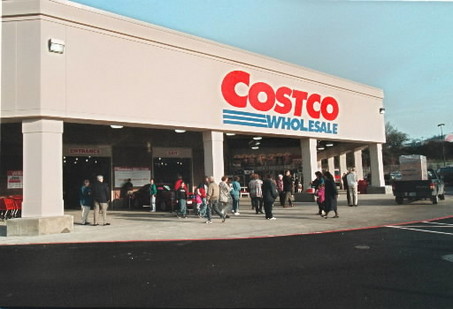 results from August, 2011, found Costco (COST) with same-store sales growth of 6%.
On May 25, 2011, Costco (COST) reported 3rd quarter results with earnings of $324 million or $.73/share compared with earnings of $306 million or $.68/share the prior year. Analysts however, were expecting earnings of $.77/share, but the continued solid reports of same-store sales growth have supported the continued stock price appreciation since.
In terms of valuation, if we look at the Yahoo "Key Statistics" on Costco, we can see that the market cap is a large cap size $35.75 billion. The trailing p/e is a tad rich at 25.51 with a better forward p/e (fye Aug 29, 2012) of 21.26. However, even with this growth, the PEG is a bit rich as well at 1.96.
COST has 437.81 million shares outstanding and has 9.65 million shares out short as of 9/15/11, representing 3.5 trading days, a little bit above my own arbitrary '3 day rule' for short interest.
The company pays a forward dividend of $.96/share yielding 1.2% at its current price. The payout ratio is a modest 27% suggesting plenty of room for continued dividend payment and possible growth in the amount. The company last split its stock 1/14/00 with a 2:1 split at that time.
Reviewing some of the Morningstar.com financials for a longer-term view of this company we can see that revenue, except for a dip in 2009, has grown steadily from $60.1 billion in 2006 to $77.9 billion in 2010 and $84.8 billion in the trailing twelve months (TTM). Similarly, except for a dip in 2009, earnings have also grown steadily from $2.30/share in 2006 to $2.92/share in 2010 and $3.20/share in the TTM. Diluted outstanding shares have been reduced during this perior from 480 million in 2006 to 446 million in 2010 and 443 million in the TTM.
The balance sheet appears adequate with $11.7 billion in most-recent current assets reported, compared to $10.06 billion in current liabilities. During this period free cash flow has soared from $615 million in 2006 to $1.7 billion in 2010 and $1.6 billion in the TTM.
Finally, the Costco (COST) 'point and figure' chart from StockCharts.com is a beautiful chart with a steady increase in price from a dip in 2009 in March when the stock hit $38/share to its most recent high of $86 in September, 2011. The stock has pulled back slightly to its current close at $81.65.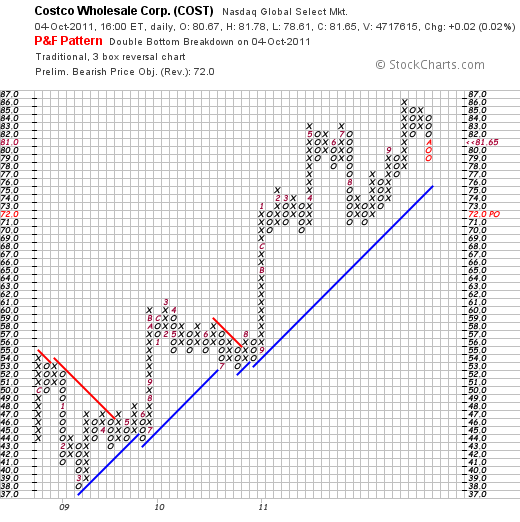 To summarize, I recently purchased shares of Costco (COST) in my own belief that it offered some relative recession-resistance in terms of attracting more value-driven buyers in this difficult economic environment. They continue to report steady and strong same-store sales growth, they pay a dividend, have a long-term record of growing their revenue and earnings and generating a solid free cash flow, and have a great chart as well.
I cannot predict whether we are to be entering into a double-dip recession, whether the deadlock in Congress will continue, whether the Fed will do a "twist" or another round of 'quantitative easing', whether Greece or Italy will resolve their financial problems or any other crisis which may affect the market. However, I shall continue to concentrate on those companies that continue to do well fundamentally as well as technically as we review stocks and the companies they represent.
Thank you again for stopping by and visiting my blog. If you have any comments or questions, please feel to leave them right here.
Yours in investing,
Bob