"Looking Back One Year" A review of stock picks from the week of March 6, 2006

Hello Friends! Thanks so much for stopping by and visiting my blog, Stock Picks Bob's Advice! As always, please remember that I am an amateur investor, so please remember to consult with your professional investment advisers prior to making any investment decisions based on information on this website.
It is Sunday, and I shall try to get through the rather busy week of March 6, 2006, when I posted review of three stocks. This review assumes a buy and hold strategy when calculating performance assuming that equal $'s of each security were purchased and held without regards to subsequent price performance. For the average performance, a simple mathematical average of the individual percentages is used to derive this figure.
In practice, I suggest and employ a very disciplined portfolio management strategy that involves selling losing stocks quickly and completely and gaining stocks slowly and partially. This difference between my actual strategy and the performance estimated on this review is significant and should be taken into consideration when reviewing these results. However, for the ease of calculating the "What if...?", this buy and hold approach is useful if not completely consistent with my own idiosyncratic approach to portfolio management.

On March 8, 2006, I posted Alliance Data Systems on Stock Picks Bob's Advice when the stock was trading at $45.22. Alliance Data Systems (ADS) closed at $77.15 on August 24, 2007, for a gain of $31.93 or 70.6% since posting.
On August 8, 200, ADS announced that shareholders had approved a $6.76 billion takeover of the company by the Blackstone Group. Since this company is to be acquired, I shall no longer be following this stock, and
ALLIANCE DATA SYSTEMS (ADS) IS RATED A HOLD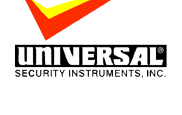 On March 10, 2006, I posted Universal Security Instruments (UUU) On Stock Picks Bob's Advice when the stock was trading at $21.65. UUU had a 4:3 stock split on April 4, 2006, and then another 4:3 stock split on October 17, 2006. Thus, our effective pick price was actually $21.65 x 3/4 x 3/4 = $12.18. UUU closed at $22.97 on August 24, 2007, for a gain of $10.79 or 88.6% since posting.
On August 14, 2007, UUU announced

. For the quarter ended June 30, 2007, sales increased strongly to $13.0 million from $8.0 million last year. However, earnings dropped to $791,002 or $.31/diluted share, from $1.6 million or $.62/diluted share last year.
If we look at the "point & figure" chart on UUU from StockCharts.com, we can see that although there has been some short-term weakness on UUU, the uptrend appears to be essentially intact.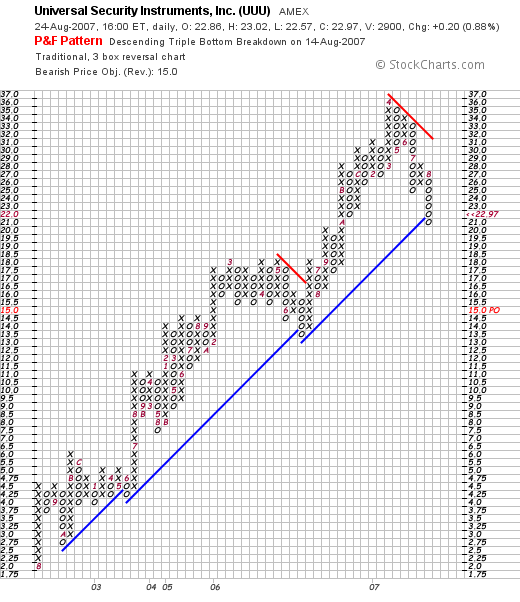 With the phenomenal performance of this stock I am reluctant to put this at a 'sale' with only the earnings down with revenues strongly higher. Thus,
UNIVERSAL SECURITY INSTRUMENTS (UUU) IS RATED A HOLD

Finally, On March 9, 2006, I picked Claire's Stores (CLE) for Stock Picks Bob's Advice when the stock was trading at $33.03.
Claire's was also the subject of an acquisition and was acquired by Apollo Management for $33/share. This was completed by May 29, 2007.
Thus, I had a loss of $(.03)/share on this pick or (.1)% since posting.
So how did I do this week in March, 2006. In a word, fantastic! I had two companies acquired, one with a large gain and the other break-even, and the other stock showed a large gain as well. The average gain for the three stocks worked out to 53%!
Last week the review wasn't quite as nice! However, sometimes I get lucky :). Thanks again for dropping by and visiting! If you have any comments or questions, please feel free to leave them on the blog or email me at bobsadviceforstocks@lycos.com.
Bob
Posted by bobsadviceforstocks at 1:42 PM CDT |
Post Comment
|
Permalink
Updated: Sunday, 26 August 2007 1:44 PM CDT