"Looking Back One Year" A review of stock picks from the week of January 30, 2006

Hello Friends! Thanks so much for stopping by and visiting my blog, Stock Picks Bob's Advice! As always, please remember that I am an amateur investor, so please remember to consult with your professional investment advisers prior to making any investment decisions based on information on this website.
Please excuse me if my absence caused any concerns among all of my readers. From time to time I shall, like all people, need to get away from the blogosphere and step back from the responsibilities of blogging. But I do not think I shall be staying away often or more than just temporarily.
But it is the weekend, and before the day is done, I would like to get a review in on past stock picks from the weke of January 30, 2006. My last "Weekend Review" was on July 7, 2007, when I reviewed the week of January 23, 2006. Let's see what was posted during the next week and how all of those stock picks would have turned out if they were purchased and held.
As I have commented on frequently on this subject, these reviews assume a "buy and hold" strategy with investing, with equal dollar amounts utilized in purchasing each of the stock selected and no sales of any of the holdings regardless of the price action of the holding. In practice I recommend and employ a disciplined strategy of selling my declining stocks quickly and completely and my gaining stocks slowly and partially at targeted appreciation points. However, for the sake of analysis, I utilize a "buy and hold" assumption for all of these reviews.

On January 30, 2006, I posted FMC Technologies (FTI) on Stock Picks Bob's Advice when the stock was trading at $51.30. FTI closed at $93.51 on July 20, 2007, for a gain of $42.21 or 82.3%.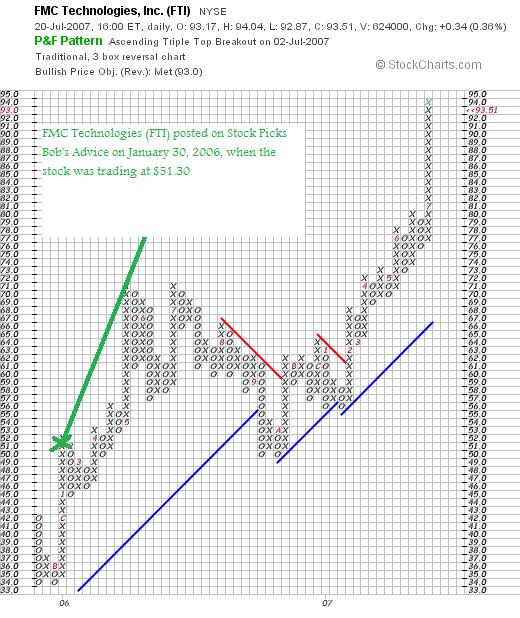 On May 9, 2007, FTI reported 1st quarter 2007 results. Revenue came in at $980 million, up 19% over the 1st quarter 2006 revenue results of $827 million. Net income climbed to $61.3 million from $47 million and diluted earnings per share increased to $.89/share from $.67/share last year.
With the outstanding earnings and the impressive stock chart,
FMC TECHNOLOGIES (FTI) IS RATED A BUY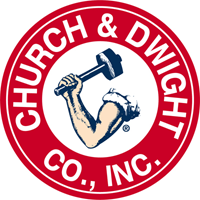 On January 31, 2006, Church & Dwight (CHD) was picked on Stock Picks Bob's Advice when the stock was trading at $36.80. CHD closed at $48.66 on July 20, 2007, for a gain of $11.86 or 32.2% since posting.

On May 8, 2007, Church & Dwight announced 1st quarter 2007 results. Revenue increased 16% to $514.3 million from $442.4 million in the prior year same period. Earnings came in at $45.1 million up from $39.9 million or $.66/share, up from $.60/share last year. This was a mixed results in terms of expectations, as analysts had been expecting income of $.63/share (the company beat expectations) on revenue of $526.6 million (the company missed on revenue).
With the reasonably strong earnings report and a strong chart,
CHURCH & DWIGHT (CHD) IS RATED A BUY

On February 1, 2006, I posted Armor Holdings (AH) on Stock Picks Bob's Advice when the stock was trading at $50.75. AH closed at $87.74 on July 20, 2007, for a gain of $36.99 or 72.9% since posting.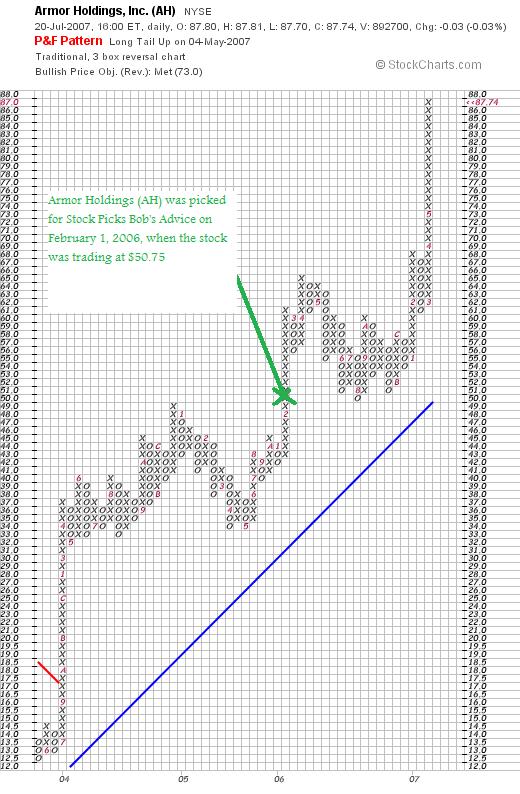 On May 7, 2007, Armor Holdings agreed to be acquired by BAE Systems Inc. for $88/share. The Justice Department approved the acquisition on July 18, 2007, and shareholders will be voting on this acquisition on July 25, 2007 (in 3 days).
With the stock being acquired I do not have an opinion on any further purchases or sales of this stock.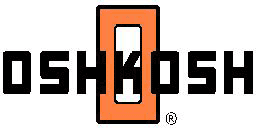 On February 2, 2006, I "revisited" Oshkosh Truck (OSK) and picked the stock for Stock Picks Bob's Advice when it was trading at $53.06. OSK closed at $60.40 on July 20, 2007, for a gain of $7.34 or 13.8% since posting.
On May 3, 2007, Oshkosh reported 2nd quarter 2007 results. Sales nearly doubled to $1.66 billion from $844.8 million with much of that increase ($707.9 million) due to the recently acquired JLG Industries. Net income came in at $50.9 million or $.68/share, up from 449.8 million or $.67/share the prior year. The company met analysts' sales expectations which was for $1.66 billion in sales, and beat earnings expectations which had been at $.64/share. The company affirmed 2007 outlook of $3.15 to $3.25/share in earnings, which is below the average analyst which had been at $3.41/share.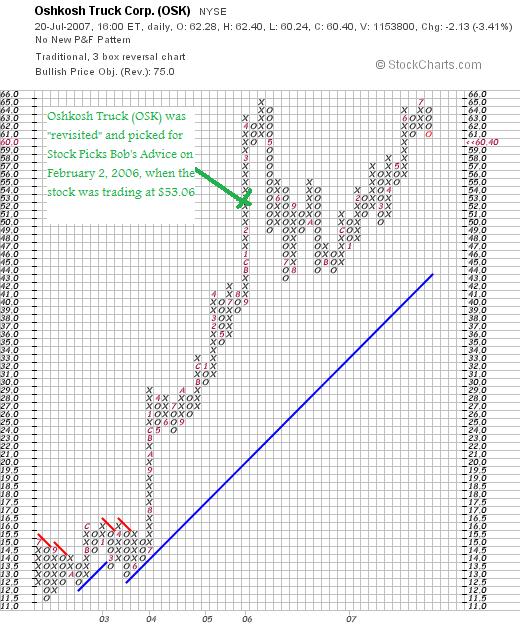 With the reasonable earnings report in light of the short-term financial stress of integrating the JLG acquisition, the strong chart, and the continuing interest in armored vehicles by the Pentagon for Iraq duty that involves Oshkosh,
OSHKOSH TRUCK (OSK) IS RATED A BUY

Finally on February 3, 2006, I posted Aviall (AVL) on Stock Picks Bob's Advice when the stock was trading at $35.28/share. On May 1, 2006, Boeing (BA) announced the acquisition of Aviall for $48/share. This was a quick gain of $12.72 or 36.1% since the stock was picked.
With the stock now owned by Boeing, this stock will no longer be followed by this blog.
So how did I do during this week during the end of January, 2006, and the first few days of February, 2006? In a word, phenomenal! These five stocks showed an average appreciation of 47.46% since posting! And two were acquired!
Certainly, past performance is no indication of future performance. And don't forget I am just an amateur! But wasn't that a GREAT job of picking stocks!
Thanks again for visiting my blog! If you get a chance, be sure and leave a comment or question on the blog or email me at bobsadviceforstocks@lycos.com. If you can, be sure and visit my Stock Picks Podcast Website. Now, with my participation on the Covestor Site, you should also visit my Covestor Page which has been following my actual trading account since early June, 2007. Also, you might want to visit my Social Picks Page where that blog has been monitoring my picking activity on this website. Are you busy enough now?
Regards to all of my friends! Have a great week trading.
Bob