July 26, 2006 BE Aerospace (BEAV)
CLICK HERE FOR MY PODCAST ON BE AEROSPACE

Hello Friends! Thanks so much for stopping by and visiting my blog, Stock Picks Bob's Advice. As always, please remember that I am an amateur investor, so please remember to consult with your professional investment advisors prior to making any investment decisions based on information on this website.

I was looking through the list of top % gainers on the NASDAQ today and came across BE Aerospace (BEAV) which, as I write, is trading at $23.05, up $2.83 or 14.0% on the day. I do not own any shares or options on this stock. The overall market is anemic with the middle-east conflict and climbing oil prices once again hanging over the market.
After reviewing some of what I consider relevant data, I thought that this stock deserved a spot on the blog! Let me share with you some of my observations.
First of all, on what the company does, according to the Yahoo Profile on BEAV, the company
"... engages in the manufacture and marketing of cabin interior products for commercial aircraft and business jets. It also distributes aerospace fasteners. The company operates in three segments: Commercial Aircraft, Distribution, and Business Jet."
Insofar as news driving the stock higher, the company announced 2nd quarter 2006 results and also announced an acquisition of Draeger, a German oxygen delivery system manufacturer for the aerospace market.
For the three months ended June 30, 2006, net sales climbed 30.8% to $271.5 million, from $207.6 million in the same quarter in 2005. Net earnings for the quarter came in at $18.7 million or $.24/diluted share, up over 100% from the $8.4 million or $.14/diluted share last year. The company raised guidance for 2006 in the same announcement, guiding to $1.19/diluted share, up $.02 for the estimate. According to the MarketWatch report on the earnings, analysts had been looking for earnings of $.21/share on sales of $252 million. Thus, the company did a "trifecta-plus" as I like to irreverantly refer to the earnings report; that is, they increased their revenue, increased their net income, exceeded expectations and raised guidance all in the same announcement. The stock climbed with this report!
How about longer-term results? Reviewing the Morningstar.com "5-Yr Restated" financials on BE Aerospace, we can see the steady (except for a dip in 2003) increase in revenue from $666.4 million in 2001 to $844.1 million in 2005 and $894.8 million in the trailing twelve months (TTM). Earnings, however, have been far less steady, dropping from a profit of $.78/share in 2001 to a loss of $(3.18) in 2002. The loss/share has been steadily improving until 2005, when the company reported a profit of $1.39/share and increased financial results to $1.50/share in the TTM.
Free cash flow, which was negative in 2003 at $(37) million improved to a negative $(4) million in 2005 and turned positive at $24 million in the TTM.
Reviewing the balance sheet, as reported on Morningstar, we find that the company has $140.5 million in cash and $434.2 million in other current assets. This works out to a total of $574.7 million in current assets, which, when compared to the current liabilities of $205.3 million yields a current ratio of 2.80. (Generally over 1.5 is considered 'healthy').
The company also has a not-insignificant $436.1 million in long-term liabilities.
What about valuation? Looking at the Yahoo "Key Statistics" on BE Aerospace, we find that the company is a mid-cap stock with a market capitalization of $1.8 billion. The trailing p/e is a very moderate 16.05, and we find the current forward p/e (?) at 17.60. However, with the growth in earnings expected, the 5 Yr expected PEG is only 0.81.
Using the Fidelity.com eresearch website for some more data, I found that BEAV is in the "Aerospace/Defence-Products/Services" industrial group. Within this group, BEAV has a very 'average' Price/Sales ratio of 1.7. Leading this group is Rockwell Collins (COL) with a ratio of 2.6, followed by BEAV at 1.7, then Orbital Sciences (ORB) at 1.5, Alliant Techsystems (ATK) at 0.9, DRS Technologies (DRS0 at 0.8, and EDO Corp (EDO) at 0.6.
Profitability, however, puts BEAV near the top of the group with a return on equity of 24%. Leading the group is Rockwell Collins with a 39.6% ROE, followed by BEAV at 24%, Alliant Techsystems at 21.7%, EDO at 9.5%, DRS at 9.3% and Orbital Sciences at 7.8%.
Finishing up the Yahoo review, there are 77.44 million shares outstanding with 76.42 million of them that float. Currently there are 3.70 million shares out short representing 3.6 trading days of average volume (the short ratio). No cash dividends are paid and no stock splits are reported on Yahoo.
What about the chart? If we check the "Point & Figure" chart on BEAV from StockCharts.com, we can see that the stock was declining between July, 2002, when it was at $12.5, down to a low of $1.25 in March, 2003. Since then, the stock has moved strongly higher to the current level around $23.15. The stock chart looks strong to me!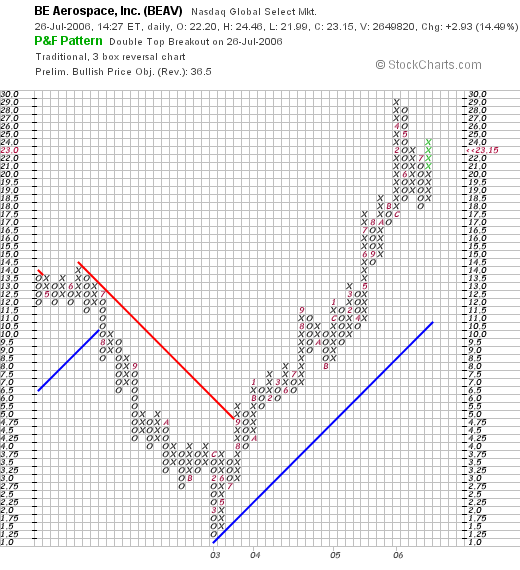 So what do I think about this stock? Well, let's review a few of the findings.
First of all the company moved ahead strongly today on a great earnings report (they increased revenue, increased earnings, beat expectations, and raised guidance). The past five years have shown fairly steady improvement in the financial picture with growing earnings, revenue, and now positive free cash flow. The balance sheet is solid.
Valuation-wise, the p/e is in the teens and the PEG is under 1.0. The Price/Sales ratio is fairly average within its industrial group, and the profitability of the company is above average in its group. Finally, the chart appears solid. I do not know about the variability of the aerospace market, especially with the climbing fuel prices, but it appears most of the financial results are already "in the bag".
Thanks so much for stopping by and visiting! If you have any comments or questions, please feel free to leave them on the blog or email me at bobsadviceforstocks@lycos.com. Please be sure to stop by and visit my Stock Picks Bob's Advice Podcast Site.
Bob

Posted by bobsadviceforstocks at 1:50 PM CDT |
Post Comment
|
Permalink
Updated: Wednesday, 26 July 2006 11:09 PM CDT