Happy Birthday to Me! Guess Who's 5?
Hello Friends! Thanks so much for stopping by and visiting my blog, Stock Picks Bob's Advice! As always, please remember that I am an amateur investor, so please remember to consult with your professional investment advisers prior to making any investment decisions based on information on this website.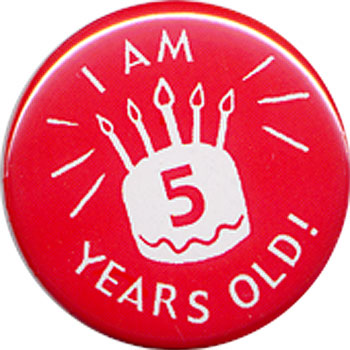 It is hard to believe that I am now five years old here on this blog. In fact, I wanted to share this button with you!
On May 12, 2003, I wrote this entry:
"May 12, 2003
St Jude Medical

This is one I picked up today. STJ is the stock symbol. I do not as I write and publish this own any shares. Am thinking about suggesting this to my stock club. Company had a great day today with a nice move on the upside. Last Quarter was good and the past five years have been steady growth. Closed at $55.30 up $2.92. So the daily momentum helped it make the list.
Posted by bobsadviceforstocks at 6:01 PM CDT"
And the rest as they say is history.
By the way, St Jude closed 5/16/08 at $40.64. Adjusted for a 2:1 stock split November 23, 2004, my pick price was $55.30/2 = $27.65, thus this stock pick had a gain of $12.99 or 47.0% since posting.
So how do I still think about this stock? Well, let's check a few of the usual things I like to examine...but let's do this briefly :).
On April 18, 2008, STJ reported a solid 1st quarter 2008 report. They beat expectations and raised guidance. Perfect! Their 5-Yr Restated Financials on Morningstar are still gorgeous.
Finally, even the 'point & figure' chart from StockCharts.com looks solid when we take a long-term view that goes back to before 2003.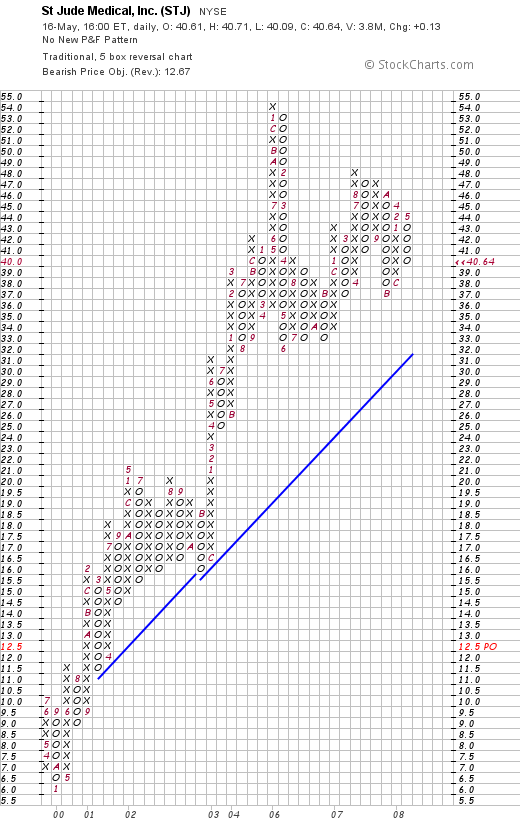 And NO, I don't own any shares or options on this stock. But it is still a great holding for this blog don't you think?
Thus,
ST JUDE (STJ) IS RATED A BUY
So now with 1,813 entries (!), and passing 200,000 visitors total, my blog is starting to show its age maybe just a little :). This is still a 'one-man' amateur operation and I get only 157 visitors daily...but thanks to all of you who make the trek and visit. You all are welcome to a piece of the birthday cake and maybe a party favor or two.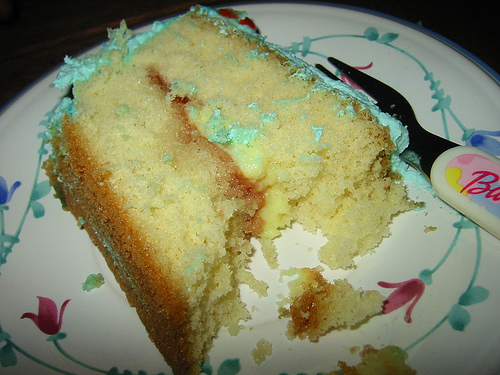 If you have any comments or questions, please feel free to leave them on the blog or email me at bobsadviceforstocks@lycos.com.
Here's to another five years of blogging!
Yours in investing,
Bob