"Revisiting a Stock Pick" Simpson Manufacturing (SSD)
Hello Friends! Thanks so much for stopping by and visiting my blog,
Stock Picks Bob's Advice
. As always, please remember that I am an amateur investor and you should always remember to consult with your professional investment advisors prior to making any investment decisions based on information on this website.

After a real strong day in the market, I figured I probably could find one more stock to discuss on the blog! Looking through the
list of top % gainers on the NYSE
today, I came across Simpson Manufacturing Co. (SSD) which closed at $38.01, up $2.12 or 5.91% on the day. I do not own any shares of Simpson nor do I own any options.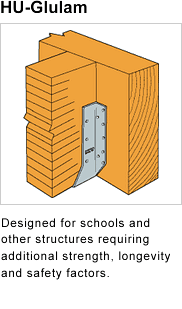 Simpson was an early "stock pick" of mine, having
selected Simpson for Stock Picks Bob's Advice on 7/21/03
when the stock was listed as trading at $40.75. Simpson split its shares 2:1 on November 19, 2004, making my stock pick price actually only $20.38. With today's close at $38.01, this makes the price appreciation actually $17.63 or 86.5% since posting!
According to the
Yahoo "Profile" on Simpson
, the company "...through its subsidiaries, Simpson Strong-Tie Company, Inc. and Simpson Dura-Vent Company, Incl, engages in designing, engineering, and manufacturing wood-to-wood, wood-to-concrete, and wood-to-masonry connectors, as well as screw fastening systems and collated screws, prefabricated shear walls, and venting systems for gas and wood burning appliances."
On July 26, 2005, Simpson
announced 2nd quarter 2005 results
. For the quarter ended June 30, 2005, net sales increased 23.4% to $224.3 million, up from $181.8 million in the same quarter last year. Net income climbed 32.2% to $28.8 million compared to $21.8 million in net income for the prior year same period. Diluted EPS was reported at $.60/share, up 33% from $.45/share for the same quarter in 2004.
And what about longer-term results? Looking at the Morningstar.com
"5-Yr Restated" financials
, we can see that revenue has steadily grown from $369.1 million in 2000 to $764.9 million in the trailing twelve months (TTM).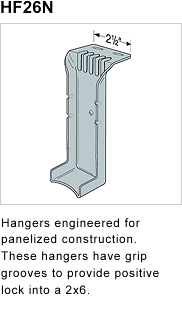 Earnings have also steadily increased during this period from $.80/share in 2000 to $1.79/share in the TTM. Free cash flow has been a tad erratic increasing from $22 million in 2002 to $50 million in 2003, then dropping to $(23) million in 2004, but improving to $24 million in the TTM.
The company initiated a dividend of $.15/share in 2004 and has paid $.20/share in the TTM.
Looking at the balance sheet, as reported by Morningstar.com, we see that the company has $63.0 million in cash and $334.9 million in other current assets, which is about a coverage of four times the $95.3 million in current liabilities and the $3.3 million in long-term liabilities combined.
What about some valuation parameters? Looking at
Yahoo "Key Statistics" on Simpson Manufacturing
, we can see that the company is a mid-cap stock with a market capitalization of $1.83 billion. The trailing p/e isn't bad at 21.25, and the forward p/e is a bit better at 16.45. The PEG is a moderate 1.21.
Looking at the Price/Sales ratio relative to
other stocks in the industrial group of "Small Tools & Accessories"
, we can see that Simpson (SSD) leads the group in Price/Sales valuation at 2.3. This is vfollowed by Stanley Works (SWK) at 1.3, Black & Decker (BDK) at 1.0, Snap-On (SNA) at 0.9, and Toro (TTC) at 0.9. Thus the stock looks to be fully valued in the context of other companies in the same industrial group.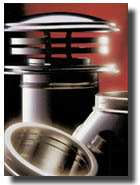 Going back to Yahoo for some more statistics, we find that there are 48.02 million shares outstanding, with 2.15 million shares as of 9/12/05 or 5.90% of the float out short, representing 14.4 trading days of volume. Using my own 3 day rule of short-interest volume, this appears to be quite significant, and may be driving this stock higher with a bit of a "squeeze" on the short sellers.
As noted above, the company does pay a $.20/share dividend yielding 0.60%. The last stock split, as already discussed, was a 2:1 split on 11/19/04.
And what about a chart? Looking at a
"Point & Figure" chart on Simpson Manufacturing from Stockcharts.com
, we can see a
beautiful
chart with the stock selling as low as $10.50 in December, 2000, and climbing steadily to the $38.01 level today. The stock has traded consistently above the support line and the graph looks strong to me!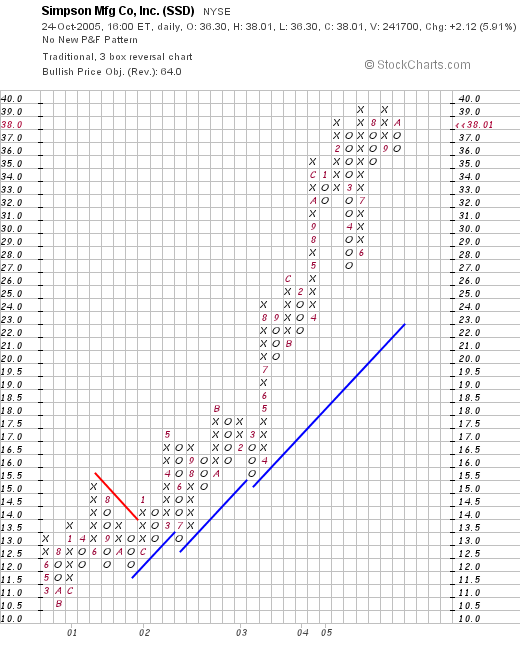 So what do I think about this stock? Well, I wish I had purchased some shares in 2003 when I first discussed the stock. Otherwise, the latest quarter was solid, the Morningstar.com looks great with steady revenue and earnings growth, and except for one dip in free cash flow, that has been strong as well. The balance sheet is superb, the valuation is maybe a tad rich, but the P/E isn't bad. In addition, the company might just be under a bit of a squeeze as short-sellers hustle to cover. To top it off, the chart looks beautiful with a steady appreciation in stock price over the past 5 years!

Anyhow, I don't have any cash to buy stock, and don't have a "permission slip" to add a position. I am waiting for the time when I can sell a portion of my existing holdings at a gain, "entitling" me to add a new position as long as I am below 25 stock holdings.

Thanks for stopping by! Please feel free to leave any comments or questions on the blog or email me at bobsadviceforstocks@lycos.com.

Bob